The Canadian airline industry is dominated by a duopoly of Air Canada and a low-cost airline provider called WestJet. There are charter operators and regional operators which supplement the industry as well, serving small niche segments of the market.
Air Canada provides direct employment opportunities for over 26,000 people each year. Its passenger transportation services generated over C$14.6 billion in 2016. More than 48 million people are carried by Air Canada to their destination each year, with over 85 billion revenue passenger miles generated.
WestJet was able to generate about C$4.1 billion by providing transportation services to over 100 destinations and over 24 billion revenue passenger miles created.
In total, the pre-tax profits that are expected from the Canadian airline industry each year are about C$1.5 billion.
Important Canadian Airline Industry Statistics
#1. In 2017, Air Canada held the largest share of the domestic air traffic market, accounting for 45% of the departing seats. WestJet accounted for another 25% of the departing seats. They were followed by Porter (4%), Air Transat (3%), United Airlines (2%), and Sunwing (2%). (Statista)
#2. Air Canada aircraft consume about 5.3 billion liters of fuel each year. (Statista)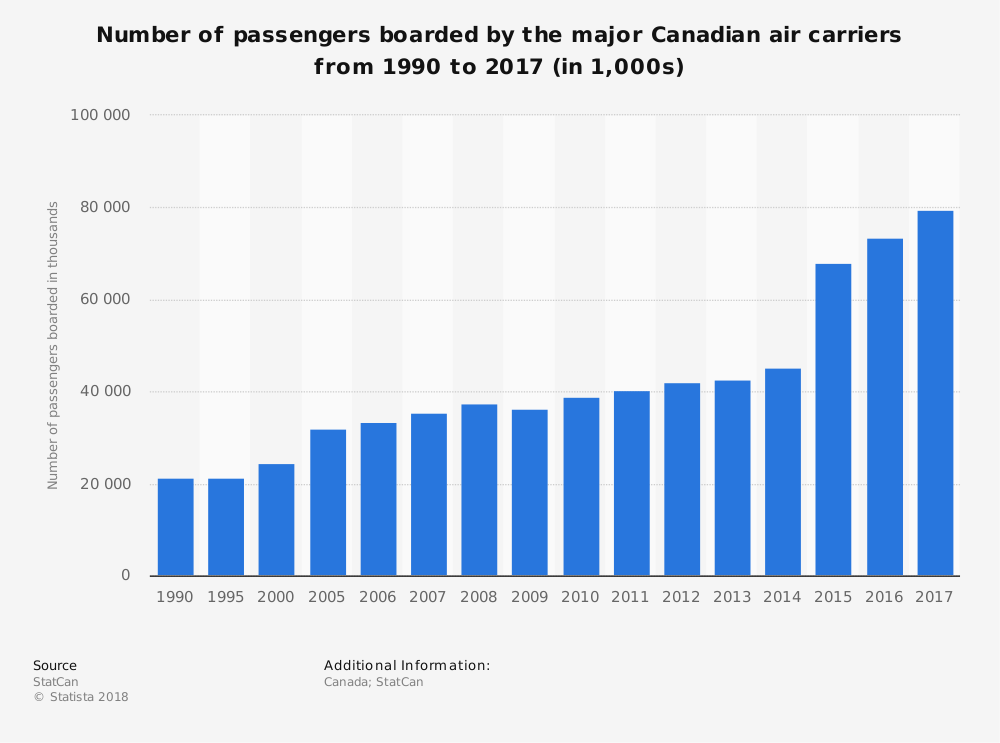 #3. About 2,400 complaints are received against Air Canada each year, but that doesn't stop Canadians from using the airline's services. About 41% of Canadians have flown with Air Canada at least once in the past year. (Statista)
#4. 51% of Canadians consider Air Canada to be an "excellent" or "good" provider of transportation services, but 44% say that their service has worsened over the past decade. (Statista)
#5. In 2017, the Vancouver International Airport was voted the top airport in North America by the Skytrax Awards. It is the only airport to have received this honor for 8 consecutive years. 55 airlines currently serve the airport, providing non-stop destinations to 125 global locations. (University of British Columbia)
#6. About 22 million passengers use the Vancouver International Airport each year, making it the second busiest airport in Canada. Over 280,000 takeoffs and landings are managed each year. (University of British Columbia)
#7. There were about 640,000 movements at 134 airports in Canada where there are no air traffic control towers present in 2017. (Statistics Canada)
#8. 10 airports without NAV CANADA towers accounted for 37% of these movements, with Peterborough, Ontario seeing the largest share with more than 51,000 takeoffs and landings in 2017. (Statistics Canada)
#9. The Quesnel airport in British Columbia saw the largest increased in flights from one airport to another in 2017, with an increase of 120%. The change in flight traffic was due to fighting wildfires in the region, with the season being the worst fire season since records were started in 1950. (Statistics Canada)
#10. At the 91 Canadian airports with air traffic control towers and flight service stations, there were 5.6 million movements in 2017. That reflects a 1.7% increase from the number of movements counted in 2016. (Statistics Canada)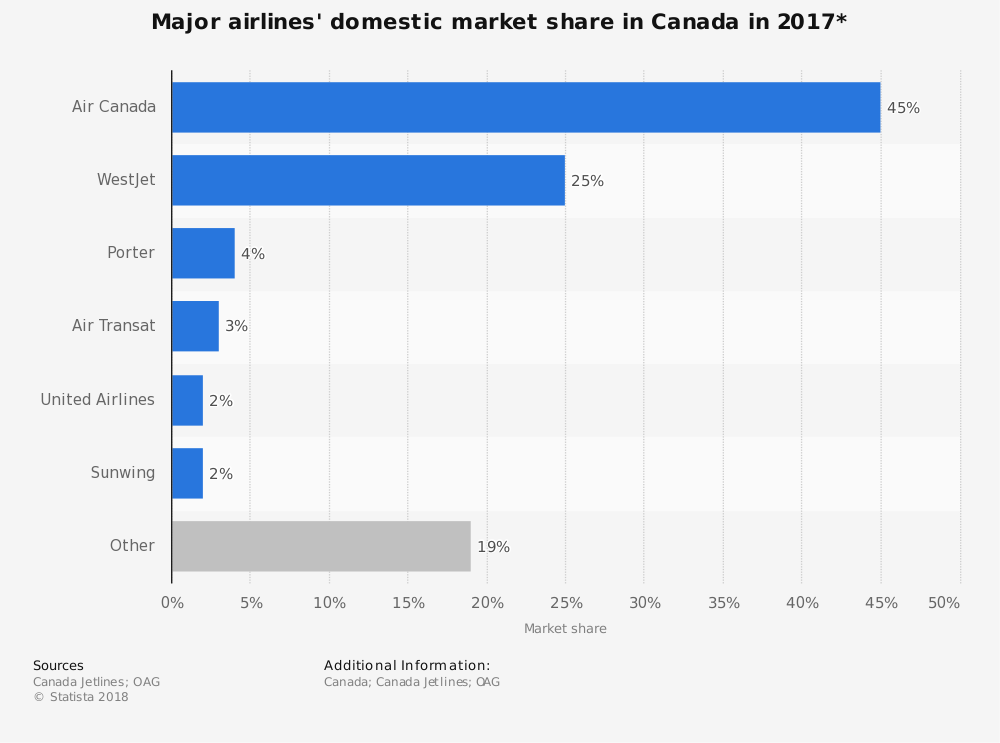 #11. Toronto International Airport continues to be the most active airport in Canada, with over 467,000 takeoffs and landings counted in 2017. (Statistics Canada)
#12. 93% of airports collect passenger demographic information to help promote services throughout Canada and North America. (Airports Council International)
#13. The median age of airline passengers in Canada is between 45-54, with the median household income between C$75,000 to C$99,999. (Airports Council International)
#14. 75% of the space that is dedicated to concessions is in the post-security area of the airport, regardless of the size of the airport. (Airports Council International)
#15. The average passenger spends $6.29 on food and beverage while visiting airports in 2017, while spending just $3.48 on duty-free items, news, gifts, or specialty retail. (Airports Council International)
#16. Sit-down casual dining brings in 46% of concessions revenue at airports, compared to the 12% of revenues generated by specialty coffee sales. (Airports Council International)
#17. Fuel prices in the Canadian airline industry represent about 30% of the total costs paid out each year. (Conference Board of Canada)
#18. About 5.5 million Americans fly into Canada for personal or professional reasons each year, partially due to the current exchange rate between the U.S. Dollar and the Canadian Dollar. At the time of writing (8/31/18) the current exchange rate was C1.31 to US$1. (Conference Board of Canada)
#19. There are currently 1,889 aerodromes as part of the air sector in Canada, including 26 airports that are part of the National Airports system. There are also 570 certified heliports, waterdromes, and airports that support passenger movements. (Transport Canada)
#20. There are more than 34,000 civil aircraft that are currently monitored by the Canadian Transportation Agency. (Transport Canada)
Canadian Airline Industry Trends and Analysis
The Canadian airline industry follows the U.S. airline industry with its growth patterns in many ways. To use an analogy, the U.S. airline industry would be like the price of gold, while the Canadian airline industry would be like the price of silver. Both rise and fall in a similar pattern, with each offering value to the consumer, but one is more valuable than the other.
There are several reasons why the Canadian airline industry may be able to break out of this long trend of parallel growth to its neighboring competitor. For starters, Canada has been actively pursuing liberalized agreements since 2006, with the inception of its Blue Sky Policy. There are now 98 partners where Canada has bilateral air transportation relations, with open agreements that cover more than 40 countries.
At the same time, however, most of the aircraft used by the Canadian airline industry is for general aviation purposes only. GA is the only service provided in most Canadian airports, especially in the northern provinces.
Passenger miles, revenues, and profits are expected to continue growing over the next 5-year period, though the price of oil will directly impact the final figures. If the price of crude oil reaches $75 per barrel, the revenue forecasts for the industry could be cut by more than 50%. Even so, the industry should still be able to achieve C$1 billion in profits each year, pre-tax, as growth opportunities continue.