Over the past 15 years, the Iceland tourism industry has grown significantly. The industry currently contributes about 10% to the national GDP, with more than 2 million visitors arriving to the small island nation for the first time in 2017. About 30% of the country's revenues are generated because of tourism activities.
Before 2000, tourism was an insignificant component of Iceland's economy. On a good year, it might contribute 2% to the national GDP, with total visitor numbers rarely reaching 100,000 people.
What makes Iceland a unique tourism destination is its unique atmosphere, rustic nature experiences, and opportunities to explore. 42% of the visitors who come to Iceland do so during the summer months. 97% of the people who visit Iceland will explore the capital region, while about half of all visitors will see the glacier lagoon. Only 31% of visitors make their way to the Blue Lagoon.
Interesting Iceland Tourism Industry Statistics
#1. Tourism's foreign exchange earnings grow from a 26% share in 2013 to a 42% share in 2017 when measuring the export of goods and services. Revenue from foreign tourists totaled ISK 376. 6 billion, which was almost 9% more than the year before. (Statistics Ireland)
#2. Over one-third of the expenditures made by foreign tourists in Iceland involves holiday accommodation or catering services. 17%is attributed to air transportation, and 10% is attributed to travel agencies. (Statistics Ireland)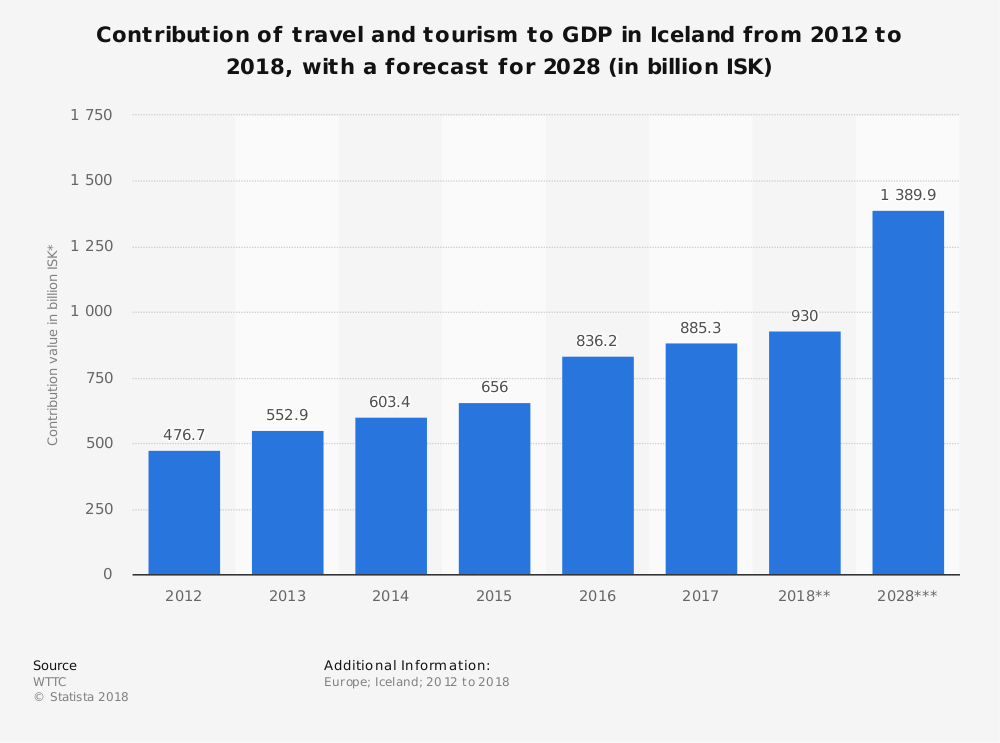 #3. About 24,500 people are employed by the Iceland tourism industry during the slow season, while over 31,000 people are employed during the busy summer months. About 60% of the employment opportunities within the industry are found in food, beverage, and accommodation activities. (Statistics Ireland)
#4. There are about 4,000 employees working in the passenger air segment for the Iceland tourism industry, along with 3,400 work employed as tour operators, travel agents, or related activities. (Statistics Ireland)
#5. Since 2013, foreign payment card turnover in Iceland has almost tripled, reaching ISK 259.7 billion in 2017. Turnover is highest during the summer, accounting for 45% of the revenues achieved by the industry. (Center for Retail Studies)
#6. Foreign visitors spend the most on passenger transport when visiting Iceland, contributing ISK 57.8 billion to the economy. Accommodation services, including restaurants, account for ISK 52.5 billion. Shopping (ISK 32.4 billion) and car rentals (ISK 20 billion) are both major contributors as well. (Center for Retail Studies)
#7. Since 2010, the number of foreign visitors to Iceland has almost quadrupled. In 2017, there were 2.22 million people who visited the island nation, compared to 488,000 people who visited in 2010. (Icelandic Tourist Board)
#8. Cruise ship passengers to Iceland have doubled since 2010, rising from 72,000 visitors to 132,000 visitors in 2017. 97% of the cruises which visit Iceland will stop in Reykjavik. (Cruise Iceland)
#9. 98% of the total visitors who come to Iceland arrive by air, while 22,000 passengers in total came through the seaport. (Icelandic Tourist Board)
#10. Visitors from the United States have doubled since 2015, rising from 242,000 to 576,000 in 2017. Foreign travelers from the UK, Germany, Canada, and France all top 100,000 per year as well. (Icelandic Tourist Board)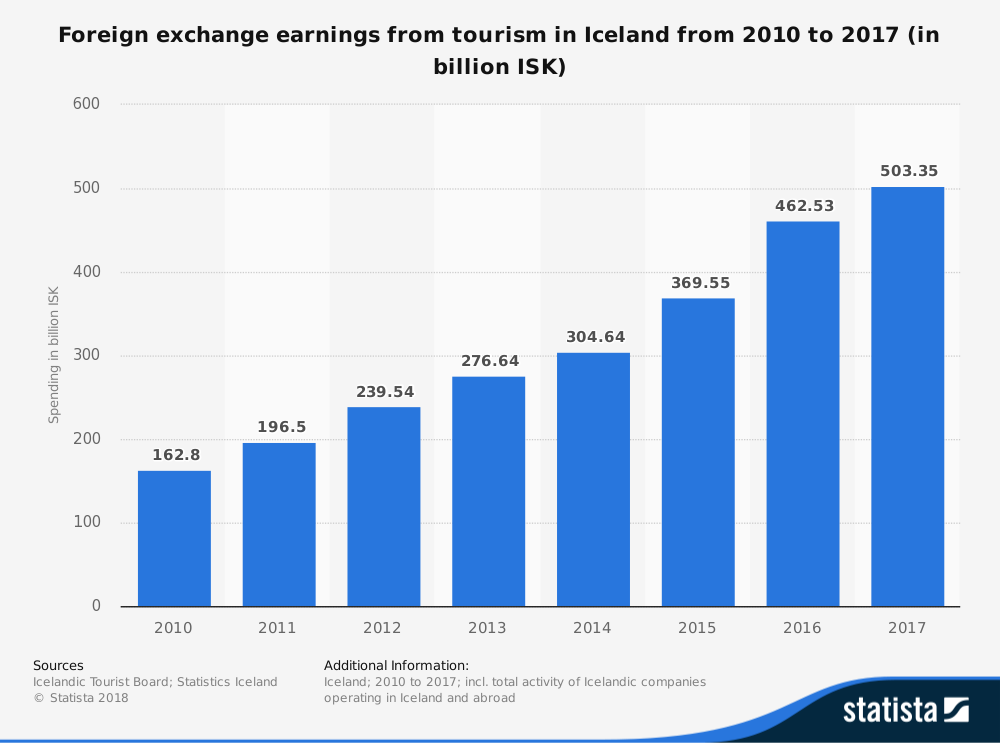 #11. The number of registered overnight stays in Iceland topped 8.4 million for the first time in 2017, with 7.2 million of those stays registered to foreign visitors. Since 2010, foreign overnight stays have risen 19%, while domestic overnight stays have risen by 4.6%. (Icelandic Tourist Board)
#12. Over half (4.3 million) overnight stays were spent in either the greater Reykjavik area or the Reykjanes Peninsula in 2017. 38% of those stays occurred during the winter months, compared to 30% which occurred during the busy summer travel season. (Icelandic Tourist Board)
#13. As of July 2017, there were over 15,000 rooms available in the Iceland tourism industry, provided by 474 hotels guest houses, or hotel apartments, which reflects a growth of 4.4% in total availability from the year before. About 40% of the rooms are in the Capital Region. (Statistics Ireland)
#14. Since 2010, rooms in guest houses and hotels have increased by 58%, but in the Reykjanes Peninsula, room availability has almost tripled. (Statistics Ireland)
#15. Nationwide occupancy rates for the Iceland tourism industry stood at 72% in 2017. In 2010, the national occupancy rate was just 47%. The Capital Region sees the highest occupancy rates, at 84.4%. (Statistics Ireland)
#16. Just 20 nationalities account for 92% of the guest nights that are booked for hotel or guest house stays in Iceland. 62% come from the United States, Great Britain, Germany, and Iceland. (Statistics Ireland)
#17. Registered overnight stays outside of hotels or guest houses totaled 2.8 million in 2017, with camping sites accounting for 1.07 million of those stays. 1 in 5 visitors will stay in residential housing, with 19% preferring hostels. (Statistics Ireland)
#18. The average age of a tourist visiting Iceland is 37, with more than half having an income that was higher than average in comparison to their own country's income. 40% had average income levels, while 10% of visitors had lower than average income levels. (Statistics Ireland)
#19. Visitors to Iceland stayed an average of 6.5 days between July 2017 and June 2018. Visitors in August stayed the longest (9.3 nights per stay), while visitors in November had the shortest stays (4.9 nights). (Statistics Ireland)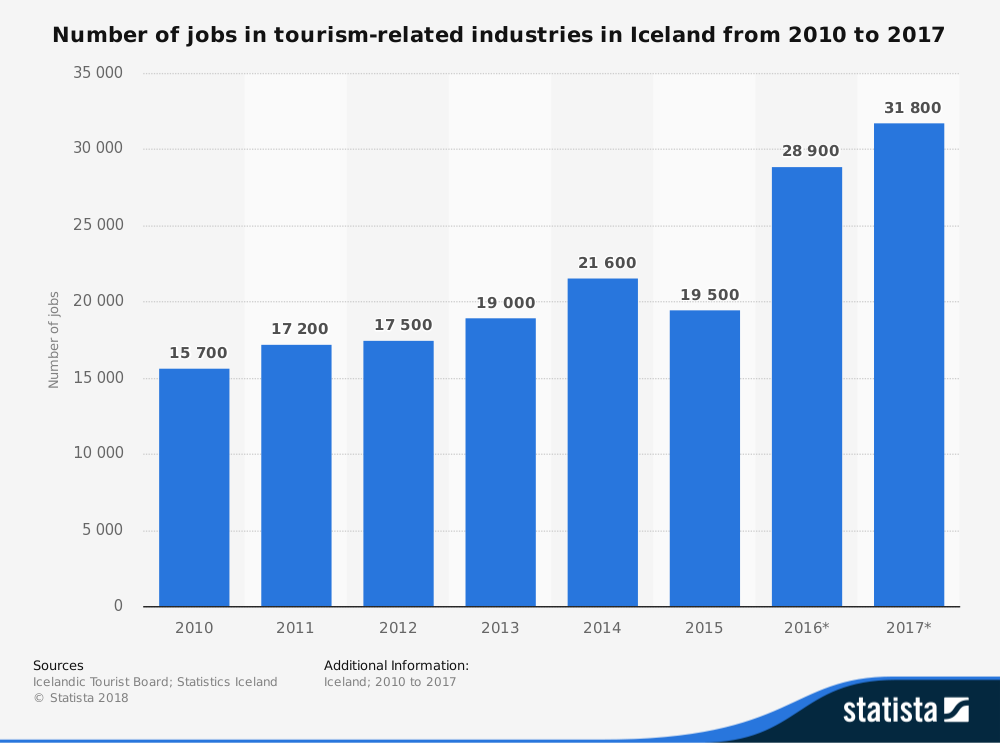 Iceland Tourism Industry Trend and Analysis
Iceland saw an extraordinary surge in tourism beginning in 2010. At the same time, some of the figures may be slightly inflated. According to reporting from The Telegraph, about 300,000 visitors claimed as foreign visitors were actually foreigners who already lived in Iceland, were air passengers connecting to another flight, or only stayed in the country for a few hours before departing for their home.
A survey conducted by the tourism minister found that 5% of passengers were self-connecting on flights from the airport, while 6% of visitors used services outside of the airport without spending a night in the country.
Due to the way visitors are tracked, it may be difficult to have firm confidence in the overall statistics which are published by the Iceland tourist industry and their providers. That does not change the fact, however, that tourism is growing rapidly in the country.
In future years, the explosive growth is expected to begin simmering. The projected increase of new arrivals in 2018 is expected to be 7%, while 2019 expects to see 5% growth in the number of visitors to the country. Compare that to the 40% growth experienced in 2016. With proper expectations in place, the industry can become a major contributor to the country's GDP.
If not, the Iceland tourism industry could see a revenue bubble that thinks about bursting in the next 5-year period.