Helicopters have a longer useful life compared to other forms of aircraft. They depreciate more slowly when compared to airplanes as well. That means the helicopter leasing industry has a unique niche where profitability can be found. Certain models are more attractive for leasing than others, but at the end of the day, the average helicopter only loses between 7-10% of its value through depreciation in any given year.
With life-extension programs implemented by leasing companies, including hourly maintenance programs and frequent upgrades, the useful life of the average helicopter can be up to 40 years. At the 10-year mark, the valuation of a helicopter can be as high as 80% of its original list price.
When these facts are combined with production levels that are at historic lows, there is plenty of room for leasing capacity to be added to the market. There are also high-value leasing opportunities available to those who already own or have a share of an operational helicopter.
Important Helicopter Leasing Industry Statistics
#1. New helicopter deliveries dropped globally in 2015 to 718 total units, down from 804 total units in 2014. (AIN Online)
#2. New deliveries of helicopters dropped 21% in 2014 from 2013 figures. (AIN Online)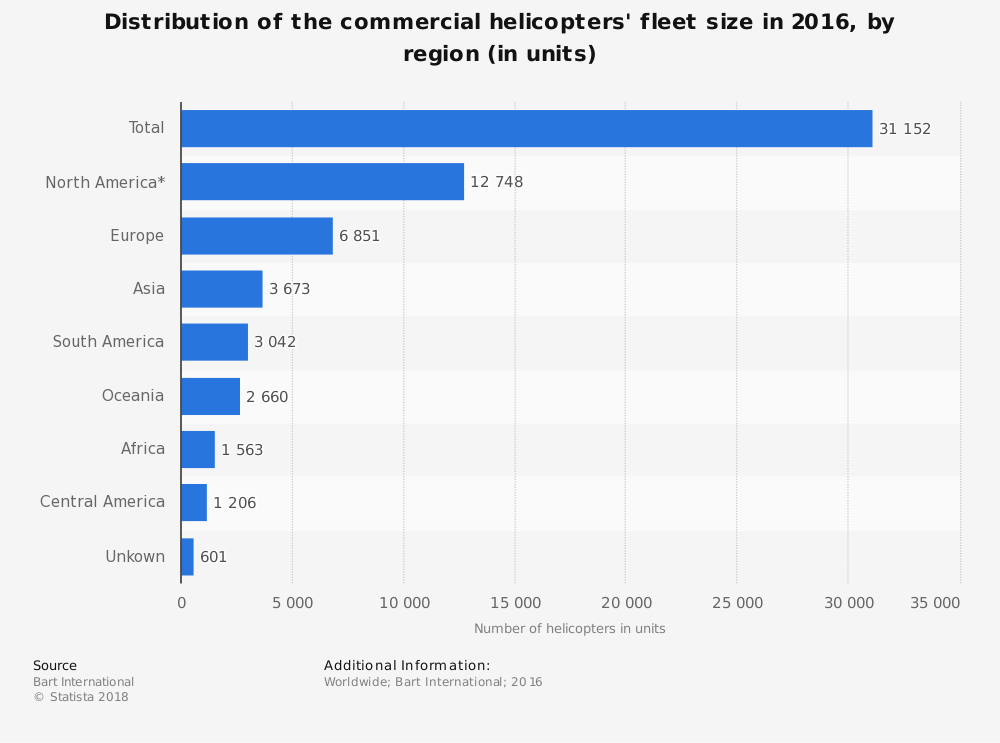 #3. Heavy helicopters have seen the biggest declines in new orders. Since 2010, some years have seen declines of 49% in year-by-year comparisons. (AIN Online)
#4. Two helicopter types have seen gains since 2010 in year-by-year comparisons. Light twins, for example, were able to see an increase in deliveries of 1% in 2015. Super-mediums saw the most impressive gains, with a 31% increase in 2015. (AIN Online)
#5. The most dominant share of the helicopter market is found in North America, which represents 41% of all helicopters in operation. Offshore configurations and utility configurations account for about half of all new orders. (AIN Online)
#6. Light helicopters account for the majority of helicopters in operation today. Nearly 25,000 models are currently in service. (IBA Group)
#7. About 3 out of every 4 new helicopters that come off the manufacturing line is a potential opportunity for an operator, a lessor, or a financier to become part of the helicopter leasing industry. (IBA Group)
#8. The Middle East accounts for just 2% of currently operational helicopters but make up 21% of new helicopter orders that have been placed since 2015. (IBA Group)
#9. In 2014, over 90% of rigs utilized at least one helicopter to provide services. When oil prices dropped below $100 per barrel, the utilization rates of helicopters dropped to 77%. (IBA Group)
#10. There are currently about 700 SAR helicopters in service right now in the United Kingdom and 30% of this fleet is more than 30 years old. (IBA Group)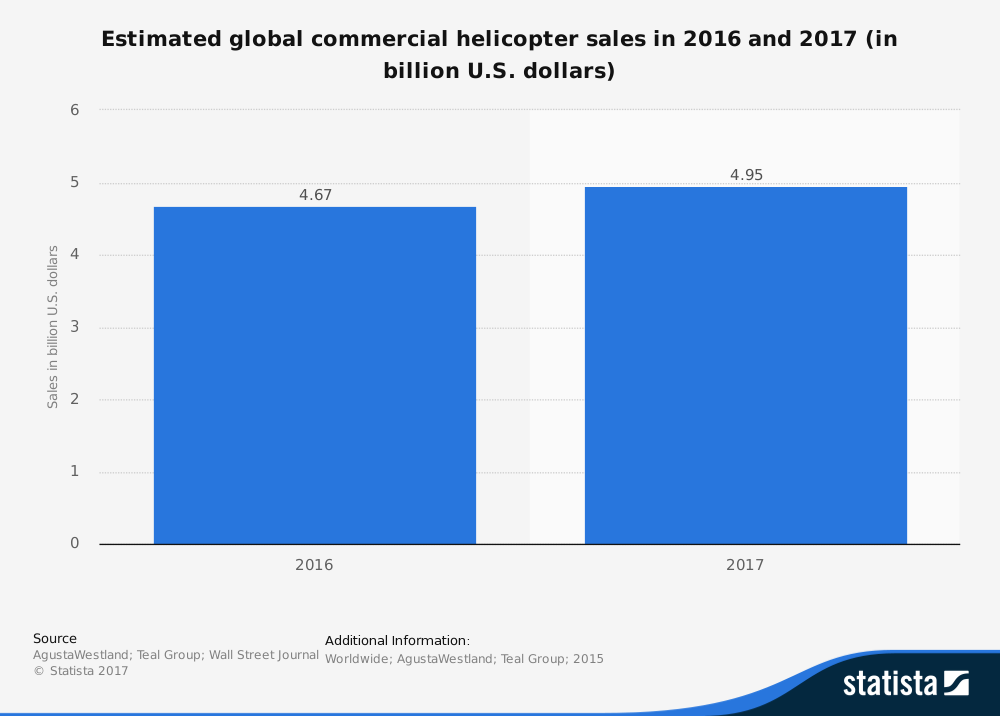 #11. One of the biggest market drivers in the helicopter leasing industry is the EC135. More than 400 of these models are currently used for emergency medical services. Another 200+ are utilized by local police forces. (IBA Group)
#12. Up to 50% of all helicopters in the Middle East, Africa, and Asia are medium twin models. (IBA Group)
#13. The operating lease market for helicopters globally is about 8% of the total market. Because banks are unlikely to finance deals that are less than $15 million in this sector, about 80% of the total leasing market may remain untapped. (IBA Group)
#14. When used in an offshore capacity, helicopters offer an average probability of site access of 87%. Vessels have a probability of access of just 51%. (Waypoint Leasing)
#15. More than $182 billion is forecast to be required to meet new aircraft demands by 2022. Aircraft leasing has already proven to be effective in Europe, with 3,500 units on lease in 2017. North America had 3,324 aircraft on least in 2017 as well. (Statista)
#16. Waypoint secured a $375 million equity check through their efforts at helicopter leasing in 2013. Contracts worth $3 billion, with assets including $600 million, are used for the search and rescue operations in the United Kingdom. (Corporate Jet Investor)
#17. About $3.3 billion in helicopters is delivered through new orders every year. (Corporate Jet Investor)
#18. Airbus is responsible for 68% of helicopter deliveries in Europe. In North America, Sikorsky, Robinson, and Bell generally share about one-third of the market each. (Helicopter Industry)
#19. Airbus Helicopters delivered 107 H145 in 206 and 104 H125s, which are often called "Squirrels." These accounted for 55% of the total aircraft that were sold in 2016. (Helicopter Industry)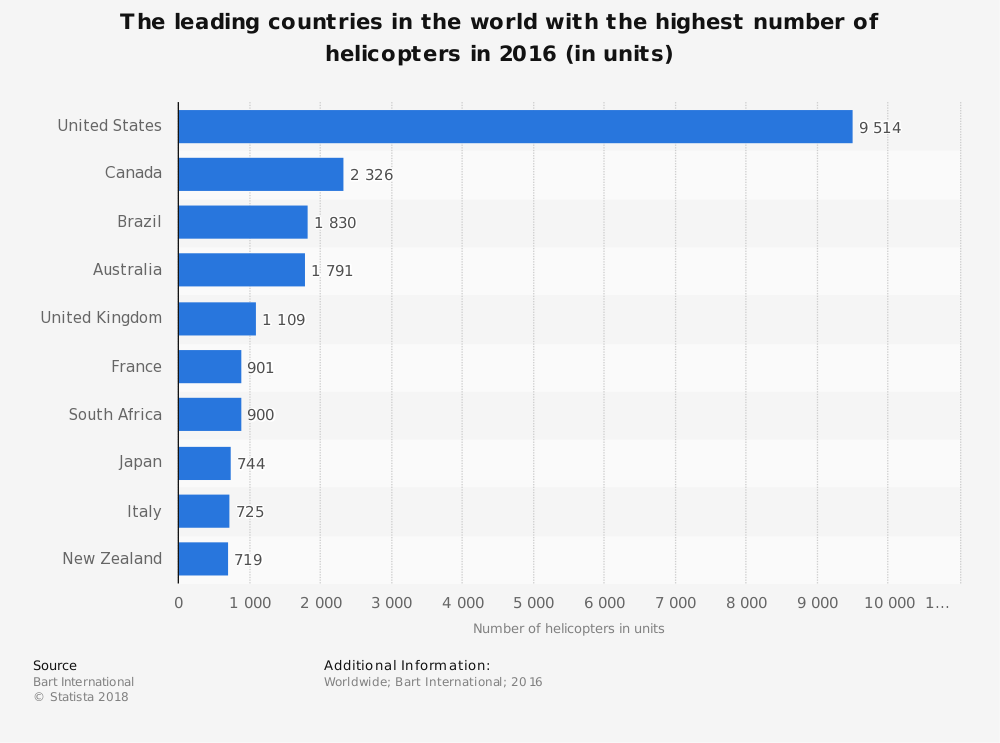 Helicopter Leasing Industry Trends and Analysis
The helicopter leasing industry is seeing some production challenges. It is also seeing a lack of capital investment. At the same time, helicopter leasing is an emerging trend that looks to utilize this technology in ways that are more effective. Police, medical, and fire may look to ownership as a first option, but private organizations that do not require the regular use of a helicopter are looking at leasing as a way to save money.
As offshore wind farms are developed, and deep-water oil rigs require staffing, helicopter leasing could reduce weather downtime while meeting specific needs. Helicopters have 3 times less weather downtime compared to crew transport vessels.
At the same time, it is important to note that the helicopter leasing industry can only be as strong as the demand for the services that these vehicles can provide. Assuming oil and gas services remain a reduced investor, expect the helicopter industry to remain soft for an extended time period.