Sportswear has long been a segment that was dominated by the United States on the global stage. In recent years, the Chinese sportswear market has experienced a large surge, which may soon displace the U.S. as the top-valued market in the world.
Many of today's global sportswear brands have already taken notice. In 2016, Adidas reported that their sales in Greater China rose 28%, which was the fastest pace of any other region in the world. The company's global net profit growth reached 60% because of the power of China's sportswear industry.
Nike has not reported specific numbers, but they have said that their products experienced double-digit growth percentages in China.
Between Nike and Adidas, the two brands share more than 30% of the overall sportswear market. Top local brands control just 10%. Part of the reason for this success is that consumers in China see brands like Adidas and Nike as fashion labels in addition to sportswear products.
Fascinating China Sportswear Industry Statistics
#1. In China, the sports-related industries account for just 0.7% of the GDP. In comparison, sports contribute to 3% of the GDP in the United States. The total value of the industry is $294 billion. (Forbes)
#2. By 2020, sportswear is expected to surpass luxury goods in terms of total value. The sportswear segment forecasted value of $42.6 billion reflects double-digit percentage growth since China hosted the Olympic games. (Daxue Consulting)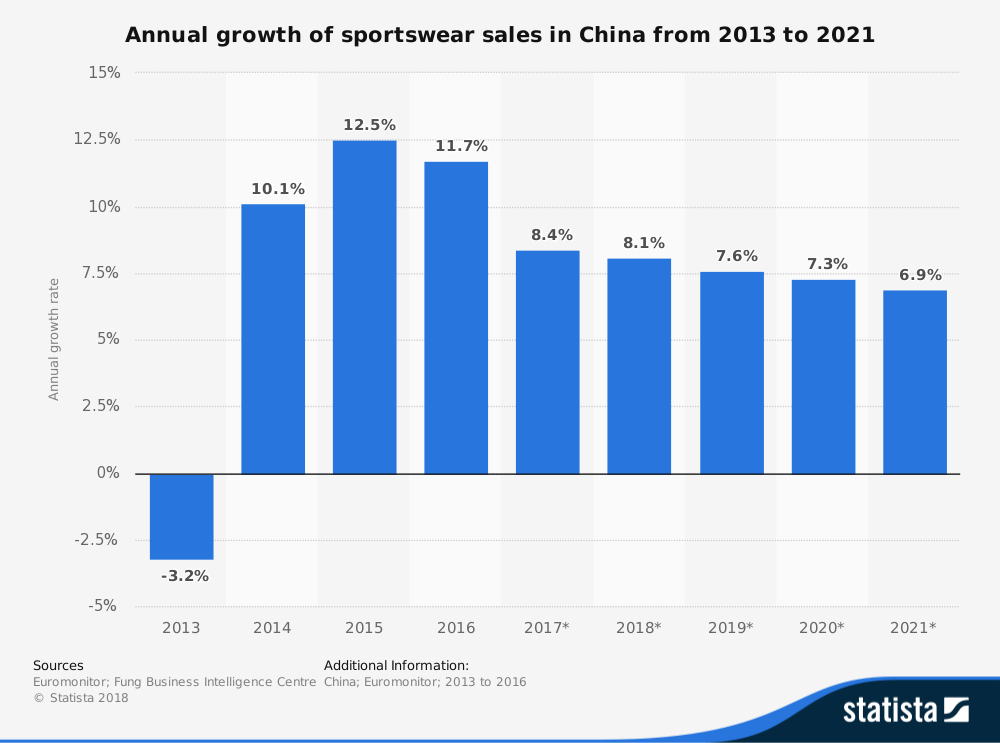 #3. In 2016, the sportswear industry in China rose by 11%, generating $27 billion in revenues. In comparison, the sale of total apparel in China rose by just 5%. (Daxue Consulting)
#4. General fashion companies have been taking financial hits because of the expansion of the Chinese sportswear industry. Belle International Holdings, which is the second-largest footwear company in terms of sales, saw a 9% decrease from the year before. Trainers revenue, however, rose by 16% for the company. (Financial Times)
#5. Since 2008, gym membership has doubled in China. Over 6.6 million people are currently members of a local gym in the country. (China Business Research Academy)
#6. Since 2009, more than 6 million more people in China say that they practice Yoga on a regular basis, creating a population of 10 million that are interested in sportswear products. (Financial Times)
#7. More than 100 marathons were held in China in 2016. In 2014, the country hosted just 51 marathons. (Financial Times)
#8. Anta reported that its net profits rose by 17% in 2016, reaching a record of $347 million. Operating profit margins for the company were also very high, at 24%. In comparison, Nike had a 14% operating profit margin, while Adidas was at just 8%. (Financial Times)
#9. E-commerce activities account for 26% of the sportswear sales which occur in China. (Azoya Group)
#10. In August 2017, the Chinese fitness app Keep registered their 100 millionth user. (Forbes)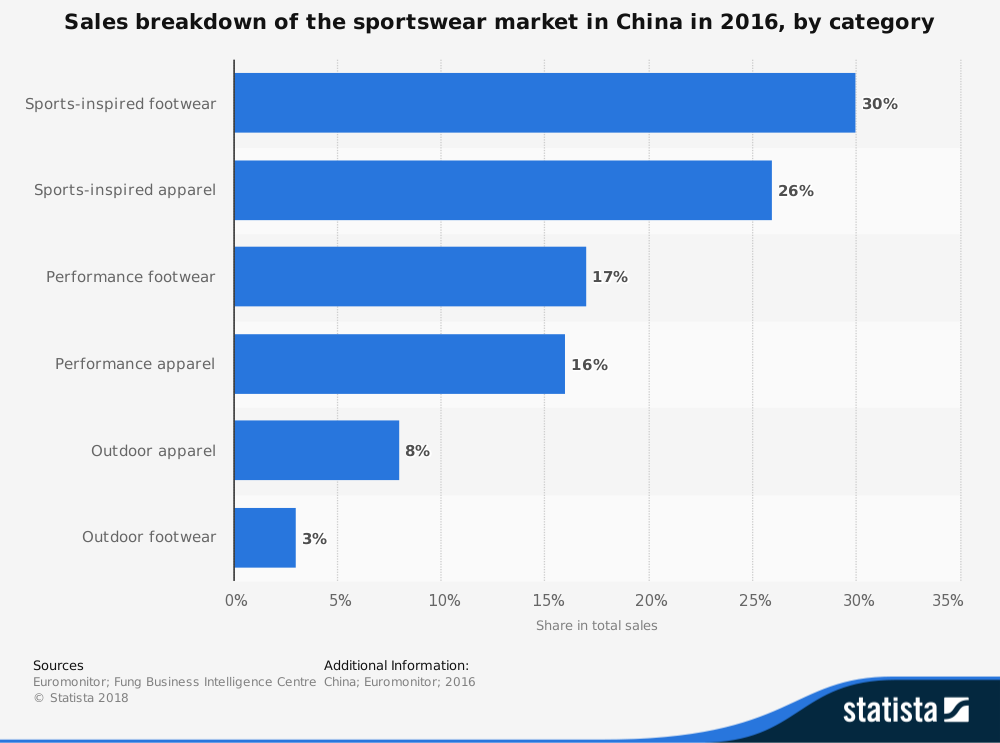 #11. The Chinese government is actively trying to grow the number of ski resorts that are available from 500 to 1,000 by the year 2030. There is also a goal to encourage 300 million skiers hit the slopes each year, compared to the 5 million skiers that are currently active. (Financial Times)
#12. In China, there are currently 300 million active basketball players, which is just below what the current population of the United States happens to be. (Forbes)
#13. The English Premier League notes that there are about 307 million football (soccer) fans who follow their sport on a regular basis. (Forbes)
#14. Li-Ning, one of the leading sportswear retailers in China, had over 8,000 sales outlets in the country in 2011. Their initial public offering as a company was in 2004. (ATKearney)
#15. Annual disposable income levels in China have been growing at a rate of 8.4% per year. At the same time, the net income of rural residents in the country has seen double-digit growth years in the past decade, including 11.4% growth in 2011. (Fung Group)
#16. The average household in China spends about 1,600 yuan on clothing per year if they live in an urban area. Rural spending on clothing per household, however, hovers around 400 yuan per year. (National Bureau of Statistics of China)
#17. Urban families spend about 11% of their total annual expenditures on clothing. Rural families spend about 7% of their income on clothing. (National Bureau of Statistics of China)
#18. 90% of consumers in China shop for clothing based on practical needs, which is why the sportswear segment is seeing such a strong surge of growth. Only 50% of consumers say that discounts or promotions influence their shopping habits. (Hong Kong Trade Development Council)
#19. 39% of purchases occur at personal goods, leisure, or clothing-specific stores, while 38% of sales occurred in traditional department stores. (Euromonitor)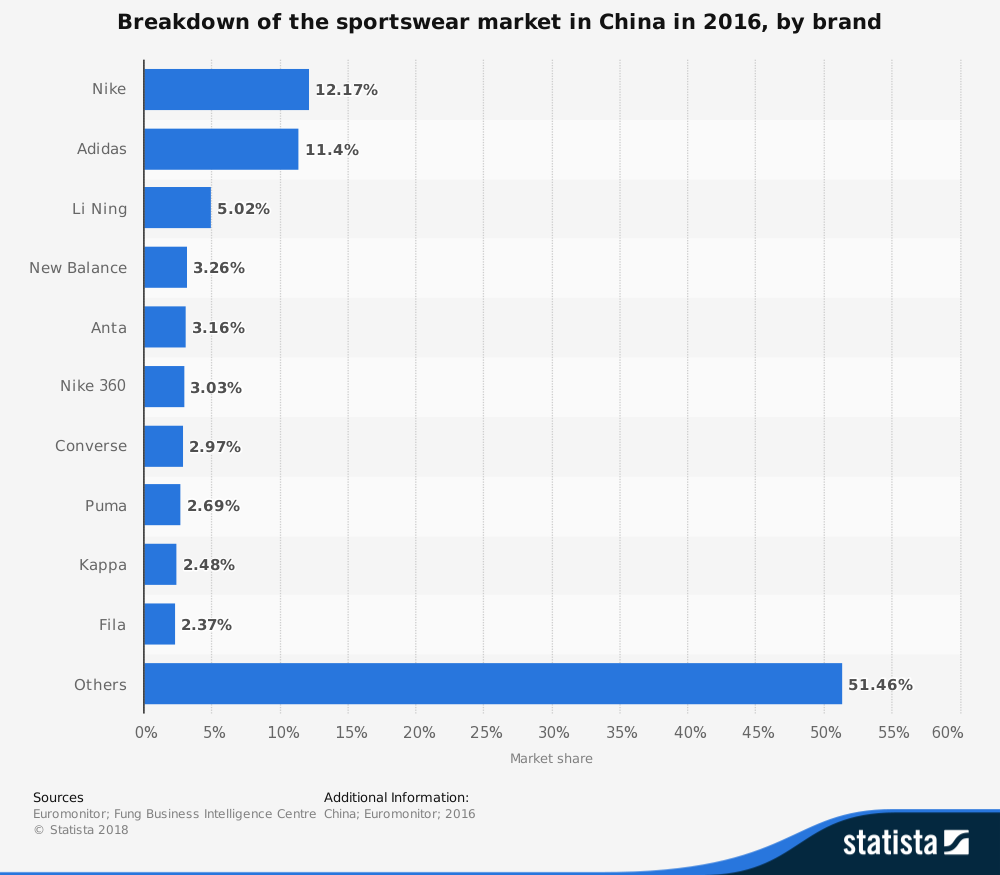 China Sportswear Industry Trends and Analysis
In the Chinese culture, the chance to go work out somewhere was seen as a luxury. Most gym memberships in the country were priced around 5,000 RMB for the year and required payment in full at the time of enrollment. That figure equaled what the average take home pay for a college graduate in China happened to be.
In recent years, however, income levels have started to rise. Sports-related industries are growing at rates of 10% or more across the board. When the trend of joining a gym is combined with the trends to use fitness workout apps and join group experiences, the sportswear industry stands to see impressive growth.
By 2020, more than 700 million people are expected to be enrolled in some type of program which encourages exercise at least once per week. Over 435 million people will be exercising regularly. The goal is to have the sports industry reach a value of 5 trillion yuan, or $773 billion, by 2025.
Revenues from sportswear in the U.S. topped $100 billion in 2016, or about $75 billion more than what the Chinese market produced. Although there is still plenty of room between these two markets, if the trend of rising incomes and a desire to be active continues in China, then it may very well begin to catch up to the size of the U.S. market by 2028.