The Chinese cosmetics industry is one of the fastest growing segments of China's economy today. This trend is expected to continue into the future as well, as affluent segments in the country are wanting more variety and more expensive cosmetics and beauty supply products.
At the same time, a growing middle class in China is demanding more opportunities for entry-level and mid-range products that they can afford as well.
In China right now, premium high-end lipsticks sell for about $99 each. Eye shadow products are currently selling at $80 or more for a similar quality. That has led the world's leading cosmetic brands to move into China for new revenue opportunities, where the 10 top brands currently hold more than 50% of the market.
The total value of imports is increasing for the cosmetics industry in China as well, with over $393 million in cosmetics imported in 2015.
Important Chinese Cosmetics Industry Statistics
#1. The current size of the cosmetics market in the Asia-Pacific region is more than $126.8 billion. The retail sales of cosmetics in China totaled 21.49 billion yuan in 2017. (Statista)
#2. The annual growth rate of retail sales of cosmetics in China is averaging 13.5% per year. (Statista)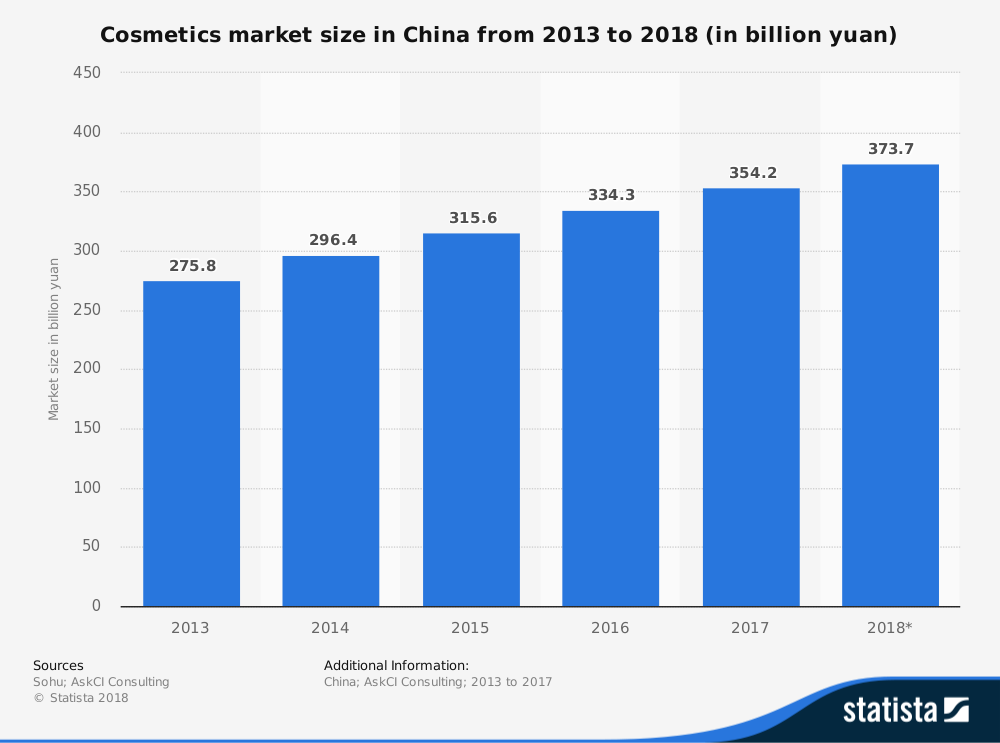 #3. China's also exports millions of dollars in cosmetics each year to other countries. In 2016, Singapore was a leading importer of Chinese cosmetics, to the tune of $366 million. (Statista)
#4. One of the biggest trends in the Chinese cosmetics industry is a "for men' segment. The average amount of time that men in China spend per week on personal grooming is more than 2 hours. (Statista)
#5. In 2015, the sales of cosmetics online in China reached a value of 124 billion yuan, which was an increase of more than 25% from the year before. This growth helped to offset the sharp declines experienced by the industry at the in-person retail level. (Statista)
#6. Proctor and Gamble, L'Oreal, and Shiseido are the three major brands in the Chinese cosmetics market. Their combined market share was more than 25% in 2014. (Statista)
#7. The market size for toiletries and cosmetics in Hong Kong alone is worth more than $2.07 billion. (Statista)
#8. Maybelline, as a brand, holds a 14% share of the color cosmetics market in China. L'Oreal currently controls a 9.2% market share of the skin care market. As for shampoo and conditioner, Head and Shoulders holds a 10.6% market share. (Statista)
#9. Over 19% of men in China research L'Oreal products when looking for male cosmetics. (Statista)
#10. Women in China place the highest priority on the benefits and efficacy of the cosmetics product they prefer the most, with 66% reporting it as a priority. This was followed by the cosmetics brand (64%), then word-of-mouth advertising (60%). (HKTDC Research)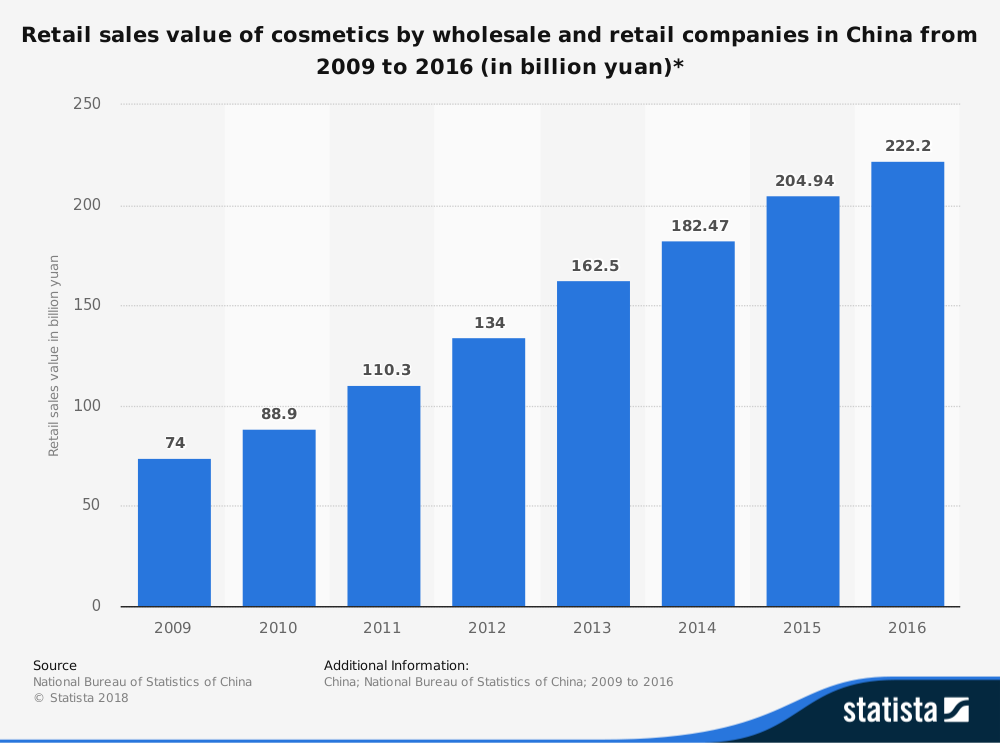 #11. 88% of women in China within the 20-30 age demographic say that they put on makeup regularly. For the 31-45 age demographic, the rate falls to 83%. (HKTDC Research)
#12. 63% of mean in China say that they will regularly use a face cream product, lotion, or a cleansing milk. (HKTDC Research)
#13. In 2017, male skin care products saw growth of 6.9% within the Chinese cosmetics industry, even though the actual market share for men in the industry is quite small. (HKTDC Research)
#14. Lip makeup preparations saw the largest levels of growth for the industry in 2017, achieving a YoY change of 101.3%. This brought the industry segment to a total value of $440 million. (Global Trade Atlas)
#15. As of June 2018, there were 3,880 enterprises in China that were authorized to produce items that could be sold through the cosmetics industry. (Global Trade Atlas)
#16. Cosmetics accounted for 20% of the purchases made by Chinese travelers to South Korea in 2014. They also accounted for 7% of the items purchased while traveling in Japan. (Morgan Stanley)
#17. In 2014, just 5% of the Chinese population said that they were likely to buy expensive brands of skin care products. Less than 4% said they would purchase expensive brands of makeup. In 2016, those figures went to 13% and 15% respectively. (Morgan Stanley)
#18. When cross-border e-commerce is included with the sales figures for the Chinese cosmetics industry, 26% of all sales for the industry happen online. (Morgan Stanley)
#19. Chinese consumers purchase cosmetics online because they are cheaper than at local stores (57.7%). 57.3% of consumers said that it was easier to compare prices of similar products online. Another 54% noted that they preferred shopping online because of the presence of online reviews. (Morgan Stanley)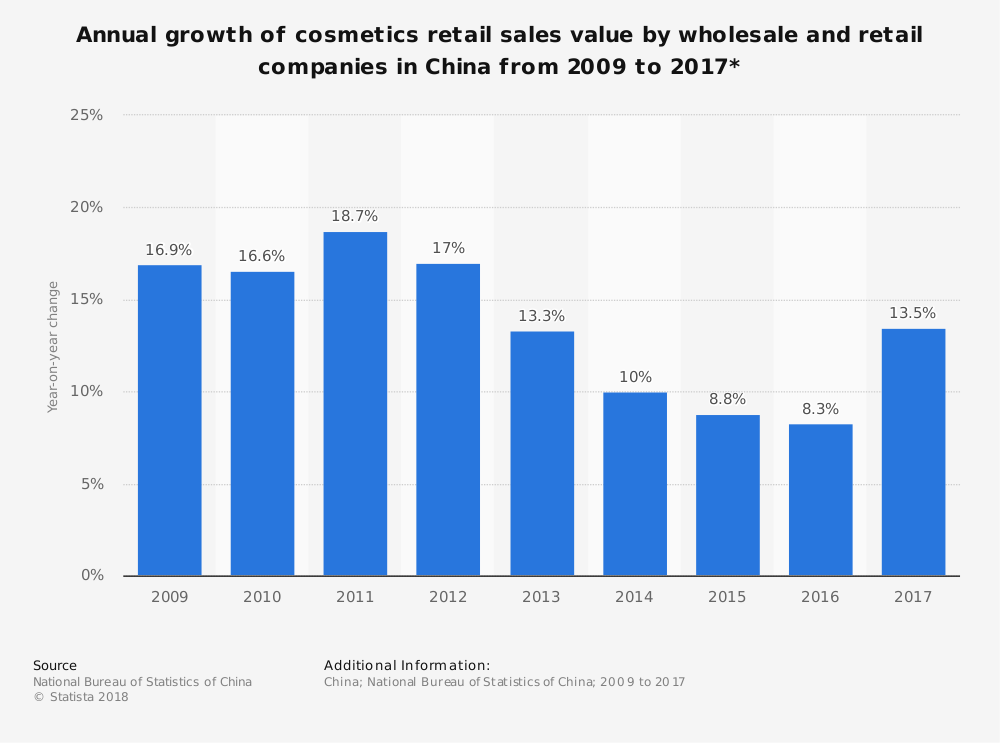 Chinese Cosmetics Industry Trends and Analysis
The Chinese cosmetics industry is just beginning a growth trend right now. As wealth continues to reach the general population and there is more disposable income, the trend of seeking out value-based cosmetics products is expected to continue.
Look for manufacturers to introduce new products that are exclusive to the Chinese market, with its high-value pricing and profit potential. A lipstick that sells for $9 in the United States could sell for $99 in some parts of China. Industry leaders are not going to ignore numbers like those.
With the exception of preparations for permanent waving, every industry segment saw double-digit percentage growth YoY in 2017. That trend is going to continue, as more firms qualified to produce cosmetics are approved by the government. Low-income households will focus on domestic brands, while higher incomes will dominate the foreign market share.
Trends in augmented reality will continue to push sales higher in the online market. As more households travel outside of China, a drive for better selections domestically will occur. The growth of Chinese cosmetics is strong and will continue to remain that way through the next 5-year and 10-year forecast periods.