The quick service food industry in the United States is worth roughly $200 billion per year. The forecast for the industry in the next five years expects that figure to rise by another $25 billion. Most of the active businesses which generate sales in this segment are on-premise restaurants and drive-thrus, although buffets, cafeterias, and take-out restaurants are part of the industry as well.
There were over 186,000 franchised quick service restaurants operating in the United states as of 2016. That figure is significantly higher than the 28,000 locations that were operating in 2006. This development has led to numerous industry leaders becoming household brand names for Americans. McDonald's, Starbucks, Yum! Brands, and Subway are all highly integrated into the fabric of U.S. society.
The issue that this industry faces is one of health. 11 out of 25 fast food chains failed in their survey of ingredients because of their use of antibiotics in their products. Trans fats are often available from the ingredients as well, which were recognized in 2015 by the FDA as a leading factor in the development of heart disease. Drinking one large Coca-Cola will provide 86g of sugar, while the maximum amount for consumption is just 38g.
Important Quick Service Food Industry Statistics
#1. The average family will spend $1,200 on fast food products each year, which means about $50 billion is spent annually on these products. If that money were funneled into stopping world hunger, it would create a three-year lapse in a lack of global food access. (Ohio Medical Group)
#2. 58% of Americans say that they will dine at a quick service restaurant at least once per week. Four out of five families say that they visit a fast food location about once per month, while 20% of the population say that they eat these items at least once per week. (Ohio Medical Group)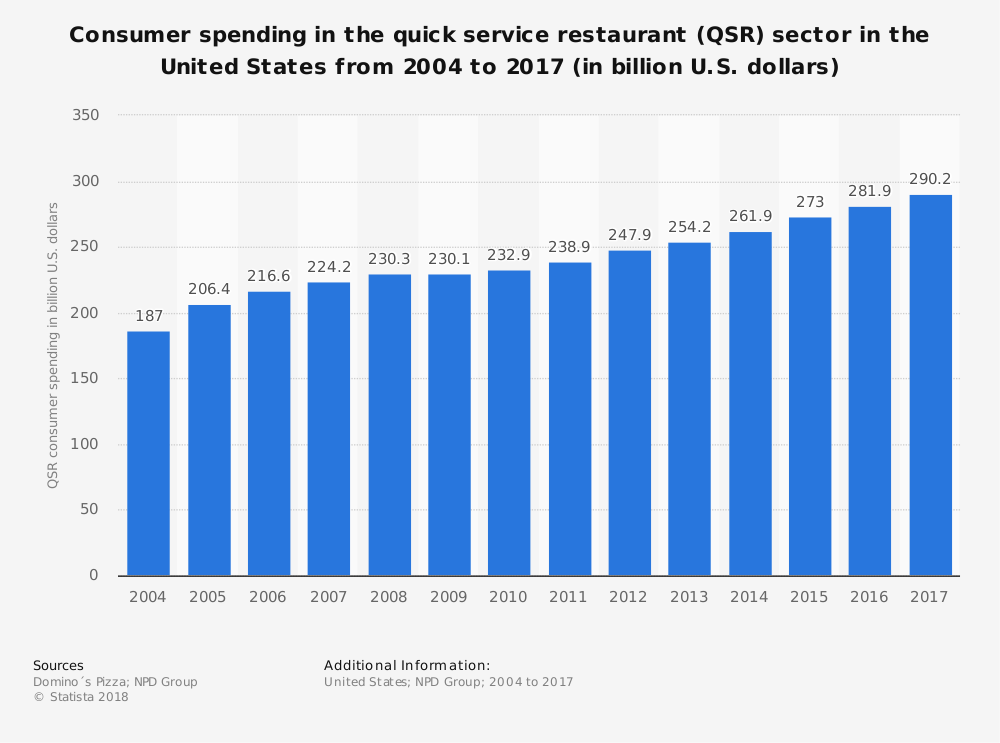 #3. 24% of adults in the United States consume a meal provided by the quick service food industry three or more times each week. (Ohio Medical Group)
#4. McDonald's is the world's largest quick service food industry company, generating $24.62 billion in revenues each year. That's despite the fact that only 2% of consumers say that the brand makes the best hamburgers in the fast food industry segment. (Statista)
#5. Wages in the quick service food industry represent 25.4% of the cost found in the menu prices as the average location. Since companies are operating on relatively thin margins, growth of the industry has been limited to 1.4% per year since 2014. (Statista)
#6. More than 68 million people will eat food products served by McDonald's every day, which means the company is feeding more individuals than the entire population of Spain. (Ohio Medical Group)
#7. McDonald's serves an average of 75 hamburgers every second at their 37,000 global locations, which is more operating firms than Burger King, Arby's, Taco Bell, and Wendy's combined. Their net worth is more than $106 billion, compared to Starbucks, which has a net worth of $84.6 billion. (Ohio Medical Group)
#8. The global quick service restaurant industry generates over $750 billion in revenues each year, which is more than the economic value of most countries on our planet. (Franchise Help)
#9. There are more than 4 million people employed in the United States at a quick service restaurant, with the industry adding about 200,000 jobs to the economy each year. (Franchise Help)
#10. Over 30% of the quick service restaurant locations in the United States focus on selling hamburgers, making it the most popular food item for the industry. Pizza parlors represent a 15% market share, while sandwich shops provide another 12%. These leaders are followed by chicken-specific restaurants (8%) and Mexican restaurants (7%). (Franchise Help)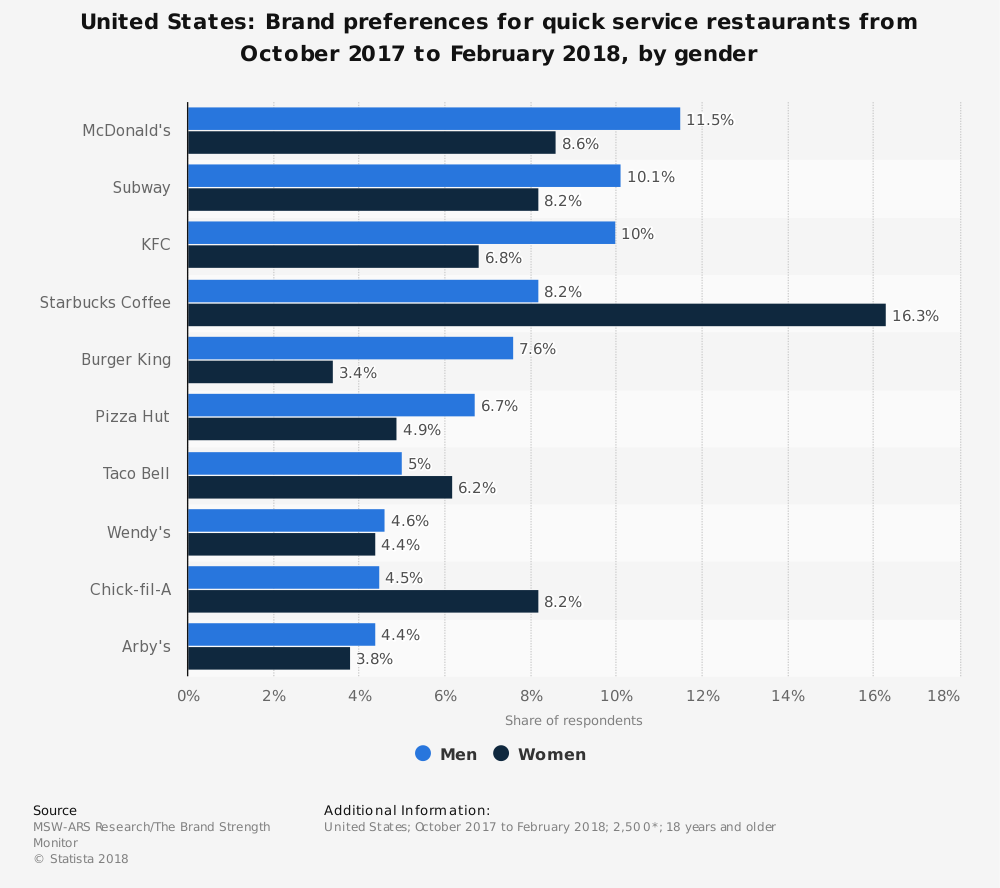 #11. 80% of children say that McDonald's is their favorite place to eat. Incorporating a playground area and offering the Happy Meal with a toy are contributing factors to this survey result. (Ohio Medical Group)
#12. 34% of children and adolescents consume at least one item served by a quick service restaurant every day. Kids between the ages of 12-19 eat twice as many calories from the industry when compared to children between the ages of 2-11. (Ohio Medical Group)
#13. If you were to consume a Big Mac, a large fries, and a large Coca-Cola at a quick service restaurant, then you would receive 1,300 calories out of the 2,000 calories recommended for daily consumption. Some meals at these restaurants provide you with all the calories needed for an entire day. (Ohio Medical Group)
#14. The average American consumer will drink 38.5 gallons of carbonated soft drinks over the course of a year. (Ohio Medical Group)
#15. Fast food consumption rates in the United States have remained consistent since 2004, even though there is a growing trend that recognizes some menu items may not be good for a person's health. (Toast)
#16. The average nutritional content of a quick service restaurant meal in 2013 was 12% lower in calories than it was the year before. (Toast)
#17. More than 7,000 people were surveyed across six different countries to show them symbols that could have global recognition. The double golden arches of McDonald's scored at 88%, while the cross representing Christianity scored 54% recognition on the results. (Toast)
#18. 20% of the meals purchased at a quick service restaurant by consumers today will be eaten in their vehicles. (Do Something)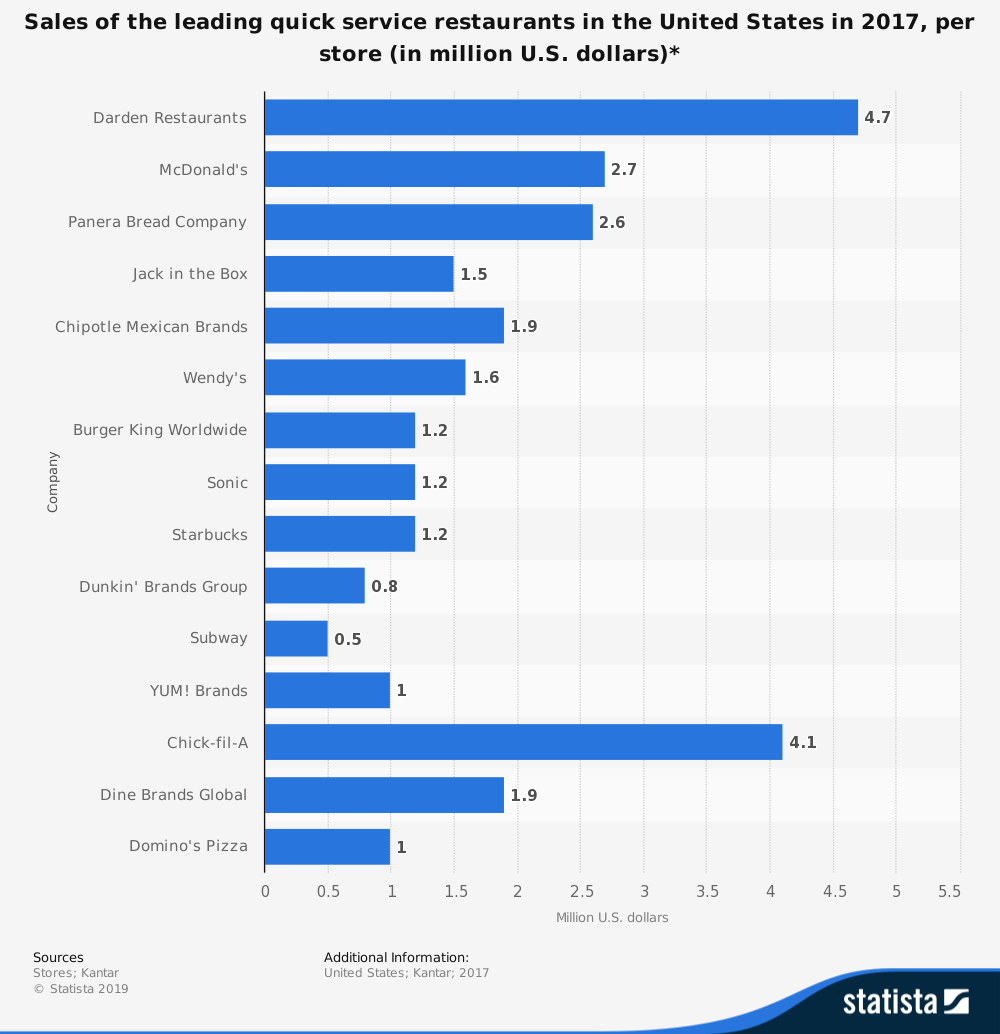 Quick Service Food Industry Trends and Analysis
Quick service restaurants are both fast casual locations and the traditional fast food destination. This segment represents 50% of the revenues generated by the entire restaurant sector. Customers typically order at a counter, pay at a window, and then take their food to eat while either sitting or standing. Each meal is short, with no table service offered, and condiments come placed at a central location.
When franchised businesses operate in this sector, then the menu items do not vary much between locations. The advantage is that meal choices are inexpensive for consumers, with most options offering a meal for $6 or less.
Quick service restaurants have a reputation for selling unhealthy food items, but that is a perception that is beginning to change. New products, including fruit items and salads, along with low-sugar beverages and low-fat foods are all coming to fast food menus. Up to 50% of locations are now offering organic options at the same price point.
As consumers move toward fast casual over fast food as a segment, quick service restaurants should see a boost in revenues that create 2.5% average annual growth through 2028 if current trends continue.