West African oil palm was introduced to Indonesia and Southeast Asia less than a century ago because of its potential value as a cash crop. In that time, Indonesia is one-half of a partnership which supplies 85% of the world's palm oil each year. The industry supports the creation of soap products, processed food items, and several other products.
The 2016 production numbers from Indonesia Investments show that 36 million metric tons of palm oil were produced, making the industry the global leader in volume. Malaysia produced 21 million metric tons, while Thailand contributed 2.2 million tons to the worldwide market.
Almost all of the palm oil produced by the Indonesian industry is exported. In 2016, only 5 million metric tons were reserved for the domestic market. That created an export value for the commodity of $18.6 billion. Over 11 million hectares of land was a part of the industry during the season, up from the 4 million hectares of plantations noted in 2000 statistics.
The Indonesian Palm Oil Association has a target of 40 million tons of crude palm oil set for the 2020 season.
Interesting Indonesia Palm Oil Industry Statistics
#1. Indonesia currently accounts for 54% of the world's crude palm oil production. Sumatra is the primary production center for the industry, followed by Indonesian Borneo and Kalimantan. (University of Teuku Umar)
#2. The expenditure of palm oil for cooking purposes increased by 4.8% in 2016, reaching an estimated consumption of 9.66 liters per person. (University of Teuku Umar)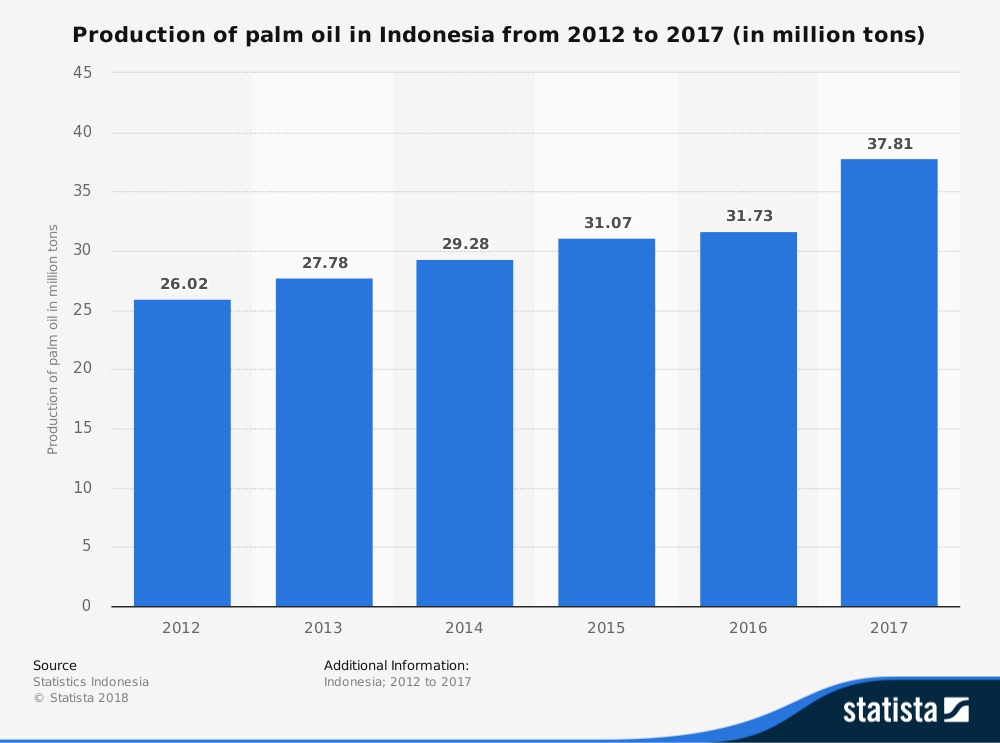 #3. 2016 marked the first year since 2002 that the palm oil industry in Indonesia suffered a decline in production, dropping from 33.4 million tons to 32.6 million tons. Compared to 2002, however, when the industry produced 9.37 million tons, it is still on solid footing. (University of Teuku Umar)
#4. The Indonesian palm oil industry currently contributes up to 2.5% of the nation's GDP each year. (Indonesian Investments)
#5. About 70% of the plantations associated with the palm oil industry in Indonesia are located in Sumatra. (Indonesian Investments)
#6. Smallholder farms account for 40% of the total production achieved by the industry each year. Large private enterprises, such as Sinar Mas Group and the Wilmar Group, account for 50% of the industry. State-owned enterprises represent the gap between the two. (Indonesian Investments)
#7. The palm oil refining capacity of the Indonesian industry rose from 30.7 million tons in 2013 to 45 million tons at the beginning of 2015. Since 2012, this figure has more than doubled. (Indonesian Investments)
#8. Export taxes in the Indonesian palm oil industry range between zero to 22.5%, depending on what the international price of palm oil happens to be. If the benchmark price drops below $750 per metric ton, then the export tax becomes zero. (Indonesian Investments)
#9. The amount of seed sales in 2017 is estimated at 72 million seeds, creating the anticipation for a downward trend in overall production for the 2027 growing season and beyond. After 10% growth in 2005-2010, the industry expects 3% annual growth from 2015-2027. (Indonesia Palm Oil Association)
#10. World consumption of palm oil products rose by 5.3% annually from the 2011 growing season thanks to higher incomes and population levels, increasing biofuels refinement, and lower prices. (Indonesia Palm Oil Association)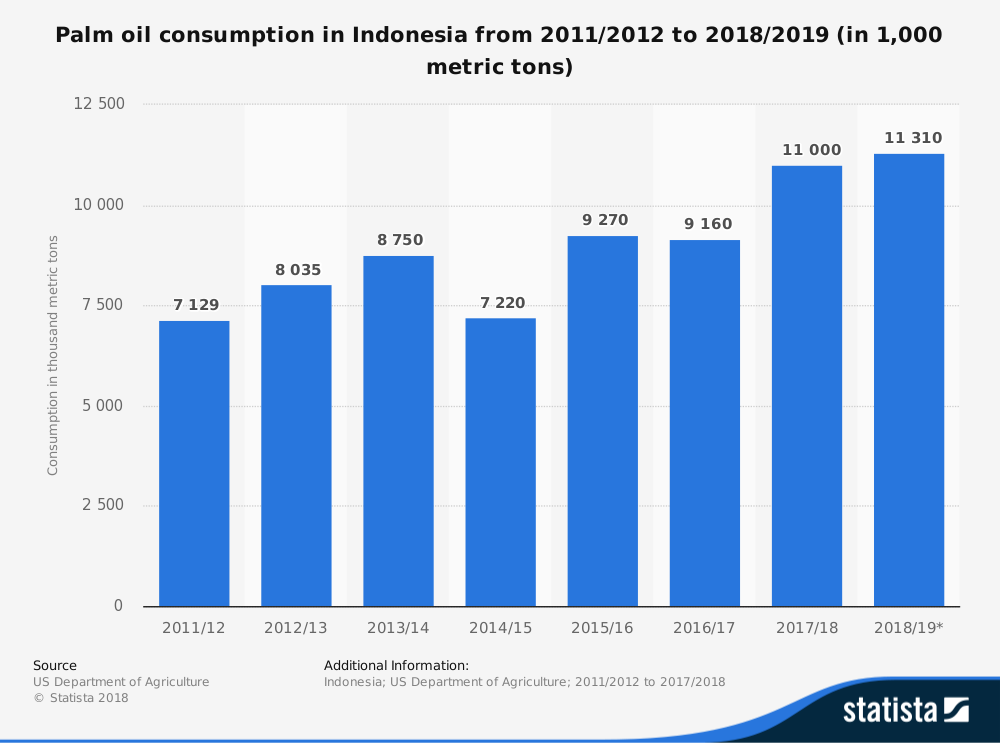 #11. The price of crude palm oil in March 2018 was below $700 per metric ton, recording the lowest rate since March 2016 for the commodity. It is still above the January 2016 low of $550 per metric ton, but far below the $800 per metric ton price of January 2017. (Indonesia Palm Oil Association)
#12. Declines in domestic consumption have made a minor impact on the industry. Biodiesel use declined from 3 million kiloliters in 2016 to 2.5 million kiloliters in 2017. (Indonesia Palm Oil Association)
#13. India is the primary importer of palm oil products for the global market, accounting for 10.2 million tons in 2016. That represents 32% of the total demand for the commodity. The European Union imported 21% of all palm oil products offered, followed by China (16%), Pakistan (10%), and Egypt (5%). (Palm Oil Analytics)
#14. The Indonesia palm oil industry is also the global leader in biodiesel production from this commodity, with 2.6 billion liters produced in 2017. Only 100 million liters were exported, however, showing how strong domestic demand is for this alternative fuel resource. (Palm Oil Analytics)
#15. The total biodiesel production capacity of the palm oil industry in Indonesia is over 7.6 billion liters each year. (Palm Oil Analytics)
#16. Indonesia currently produces about 35% of the world's certified sustainable palm oil used each year. (Malaysian Star)
#17. Over 600 different land disputes in Indonesia are directly linked to the activities of palm oil production. (Forest People's Program)
#18. About 16 million jobs are created by the Indonesian palm oil industry, with most involving small-scale producers offering agricultural positions. (UNDP Indonesia)
Indonesia Palm Oil Industry Trends and Analysis
The Indonesia palm oil industry has one real competitor and a couple of disruptors which make a minor impact on its potential export profits each year. It is one of the few industries on a global scale which thoroughly dominates its market. This strength, supported by friendly government policies which encourage sales, creates a stable supply which will continue producing at a high level.
After 2020, the industry's goal is to maintain production levels above 40 million metric tons. This level places pressure on the world's other suppliers, securing stronger demand for their domestic product. Although pricing from 2014 to 2016 was low for the industry, ultimately causing a drop in production, this issue appears to be a one-off season.
Even when governments don't pay up for palm oil as a food product because of its high levels of saturated fat, they are still purchasing the product because of its capacity to be refined into biofuels. With new products being developed, new markets offering higher demand levels, and mature markets seeking alternative fuels, there seems to be nothing right now that could hold the Indonesian palm oil industry back.