Since 2014, the Australian clothing industry has faced numerous challenges. Cautious spending habits, increasing competition, and rising lease costs are all creating negative impacts on available revenue. Despite these challenges, however, the retail segment of the industry has still achieved annualized average growth of 2% per year.
When all segments of the clothing industry in Australia are combined, they are responsible for about 220,000 jobs. That figure includes modeling and styling employment.
Australia also exports over $6.1 billion in textiles, most of which are unprocessed commodities. These items are then sold back to the industry from European luxury brands which are based in Italy, France, or Great Britain.
Unless indicated otherwise, the statistics below offer figures that are in Australian dollars.
Important Australian Clothing Industry Statistics
#1. Australia has two large international fashion companies, and both are focused on surf apparel. Billabong has a market value of $1.5 billion, with annual revenues of $1.1 billion, and is the largest public company in the clothing industry. Rip Curl has a market value of $884 million, with annual revenues of $431 million, and it is a private company. (Fashion United)
#2. Employment in the clothing manufacturing segment of the industry (which includes textiles, leather, and footwear) is about 37,000 people per year. (Fashion United)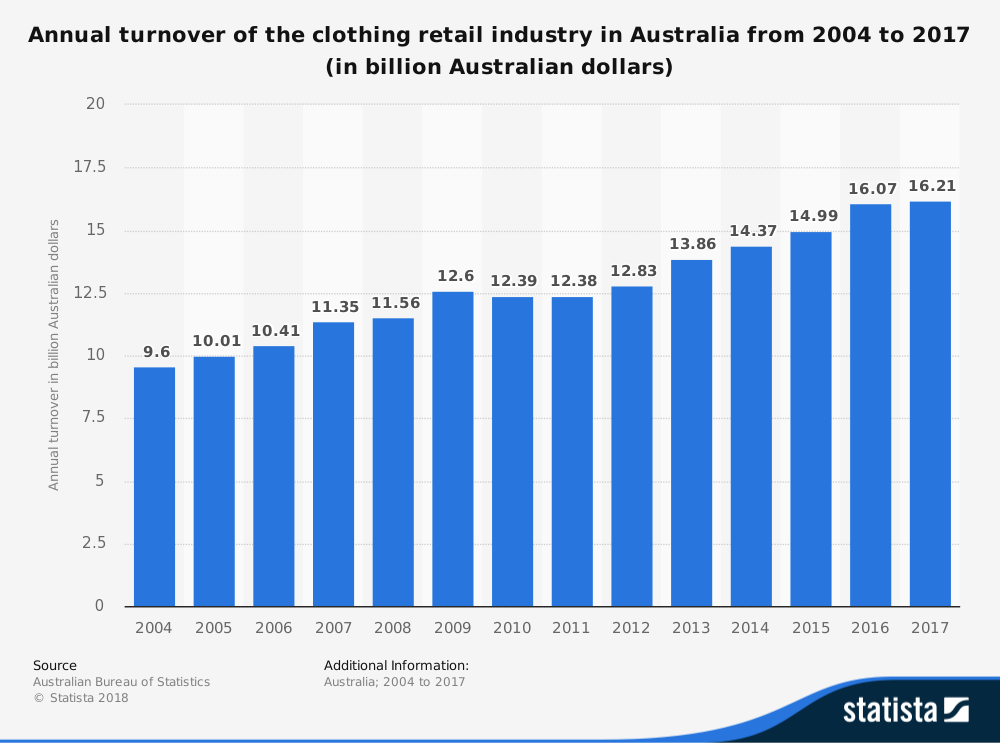 #3. There are about $21 billion in retail sales each year for the Australian clothing industry, with a domestic market value estimated to be nearly $30 billion. (Fashion United)
#4. The clothing industry exports about $65 million in headwear and footwear each year. Handbags, travel goods, and leather goods adds another $44 million. (Fashion United)
#5. About $11.5 billion in clothing and textiles are imported by the Australian clothing industry each year, with men's suits ($853 million) being the largest category. T-shirts ($794 million), sweaters, sweatshirts, and pullovers ($736 million), and women's suits ($510 million) are also major import categories. (Fashion United)
#6. Over $90 million in used clothing and textiles is exported by the industry each year. (Fashion United)
#7. The Australian clothing industry exports over $250 million in clothing articles each year. (Fashion United)
#8. Over 110,000 full-time and part-time workers are supported by the retail clothing industry in Australia, with over 11,000 businesses involved. (IBIS World)
#9. The fastest-growing segment of the Australian clothing industry is in fast fashion. Since 2013, this segment has seen annual growth rates average 19.5%, reaching a total value of $2 billion for the first time. (IBIS World)
#10. The luxury retail market for clothing within the industry is valued at $2 billion in Australia as well, with the segment experiencing annual growth of more than 10%. (The Guardian)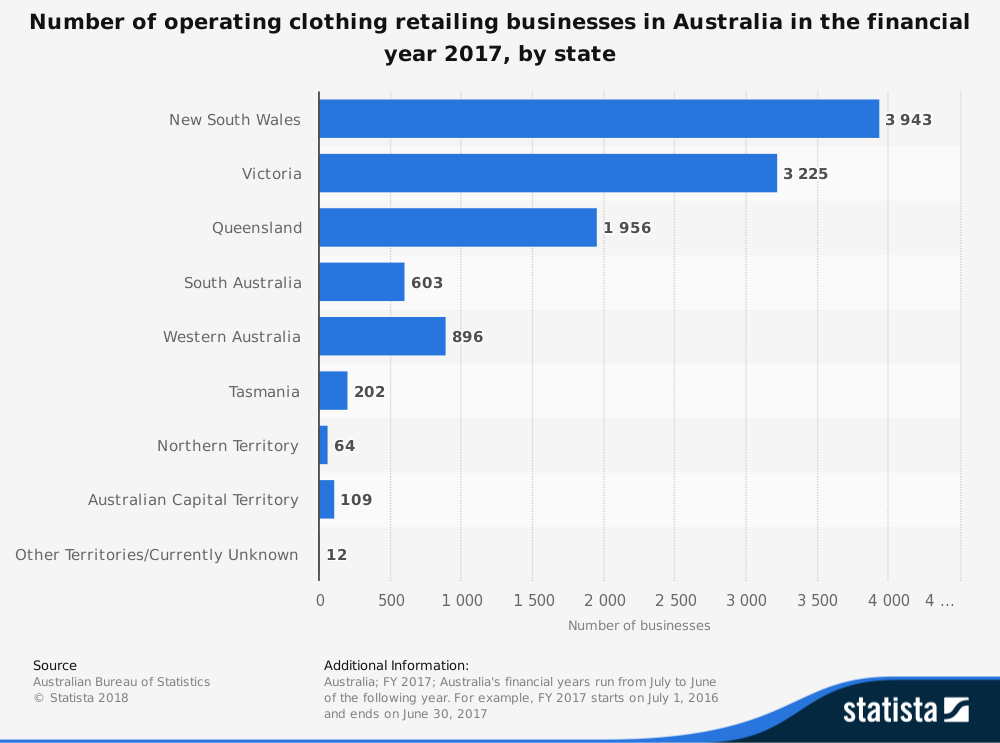 #11. China accounts for over 70% of the apparel and textile imports that are brought in by the Australian clothing industry. Even with their proximity to the discounted markets, however, the average price of apparel and footwear is much higher locally than it is in the United States. (U.S. Commercial Service Australia)
#12. The Australian clothing industry exports about $2.9 billion worth of wool each year. Another $2.5 billion in cotton exports also make contributions to the local economy. (Australian Trade and Investment Commission)
#13. Three of Australia's design studios are ranked in the top 50 in the world. RMIT is ranked #17, Fashion Design Studio is ranked #23, and UTS is ranked #28. (Australian Trade and Investment Commission)
#14. Fashion e-commerce in Australia is a segment which is valued at more than $3.1 billion. Over 60% of the money which is spent online for clothing purchases in the country involve local merchants. (Magenable)
#15. Growth in online shopping tendencies for the Australian clothing industry are higher in metro areas (22%) than in rural areas. Over 15% of all fashion spending occurs online in the country today. (Magenable)
#16. The 18-24 age demographic is responsible for 23.8% of total online spending for fashion items in Australia, leading all age groups. The 25-34 age demographic comes in second, with 19.6% of purchases. They are followed by the 35-44 age demographic (16%), 45- to 54-year-olds (15.9%), and 55- to 64-year-olds (13.9%). (Magenable)
#17. 37% of Australians in the 18-24 age demographic say that they shop for clothing and fashion items from their bed. (Magenable)
#18. Almost 40% of the online fashion purchases which are handled by the Australian clothing industry are spontaneous. The top driver for an e-commerce purchase is value, followed by convenience, and then variety. (Magenable)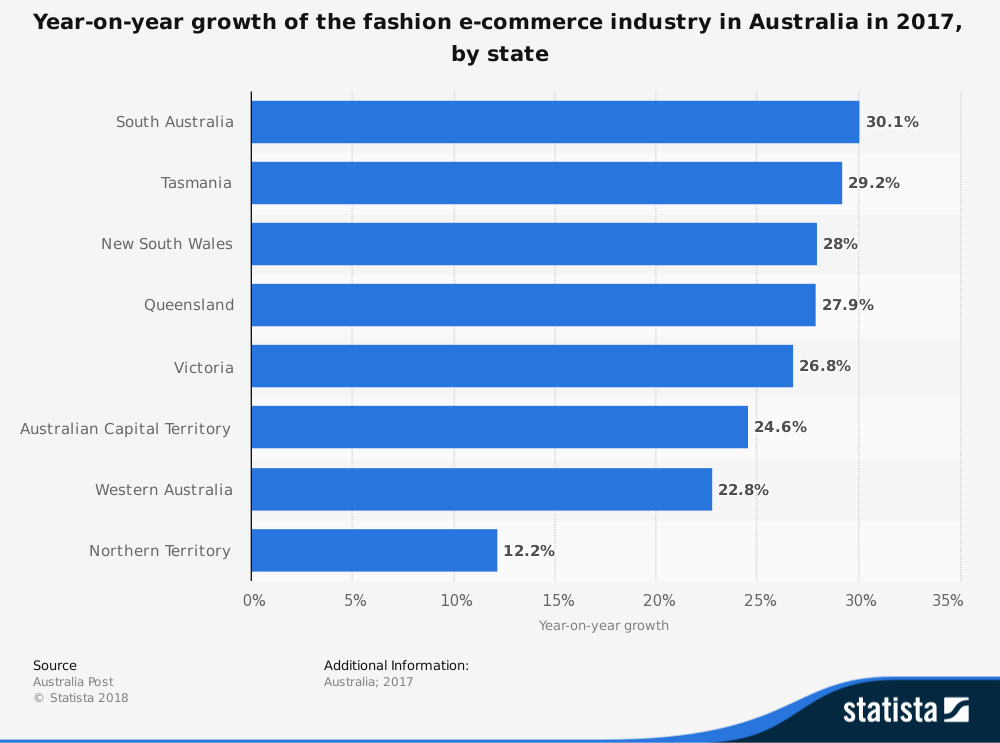 Australian Clothing Industry Trends and Analysis
Because it is a high-cost labor market, the value of Australian clothing is not measurable against the producers which are based in Bangladesh and low-wage markets. That is why the focus of this industry tends to be on core consumer goods, such as leather and textiles, or luxury fashion items.
Although the clothing industry is making strides in product development and retail access, much of the industry is still focused on domestic sales. Even textiles which are 100% local are exported, only to be imported under a different designer brand at a higher cost. The fashion presence is strong in the country, but it does not have the same access to the global market as other large clothing providers.
To shift gears, the industry in Australia is reaching out to the world's top designers and brands to create introduction opportunities. Camilla and Marc, for example, celebrated their 15th anniversary by taking guests to the Outback. They used 60 tons of rock and sand formations to showcase one of their unique collections during Mercedes-Benz Fashion Week.
Only time will tell if their efforts are paying off. In the meantime, continuing to secure domestic increases in revenues and market share will be a top priority for the Australian clothing industry.