Mutual funds are a vehicle which pools the money of investors to locate on financial markets in accordance with the objectives which are specified within the prospectus of the product. By entrusting savings to a professional fund manager, it becomes possible to diversify assets, obtain growth at a lower cost, and have access to global markets and financial instruments which may not have been available otherwise.
The total number of open-end funds for the global mutual fund industry in 2017 reached more than 114,000. Over 50% of the assets held by the industry are concentrated in the United States, where there are more than 9,300 mutual funds managing over $18.75 trillion in assets right now. Domestic equity funds represent 43% of this market, followed by bond funds which hold a 21% market share.
Despite the many advantages that investors experience when investing in mutual funds, less than 45% of households in the United States are taking advantage of this investment vehicle right now.
Interesting Mutual Fund Industry Statistics
#1. The share of U.S. corporate equities in assets which are held by mutual funds across the country is 24%. (Statista)
#2. 16% of the world's equity funds are represented by American mutual funds on any given day. (Statista)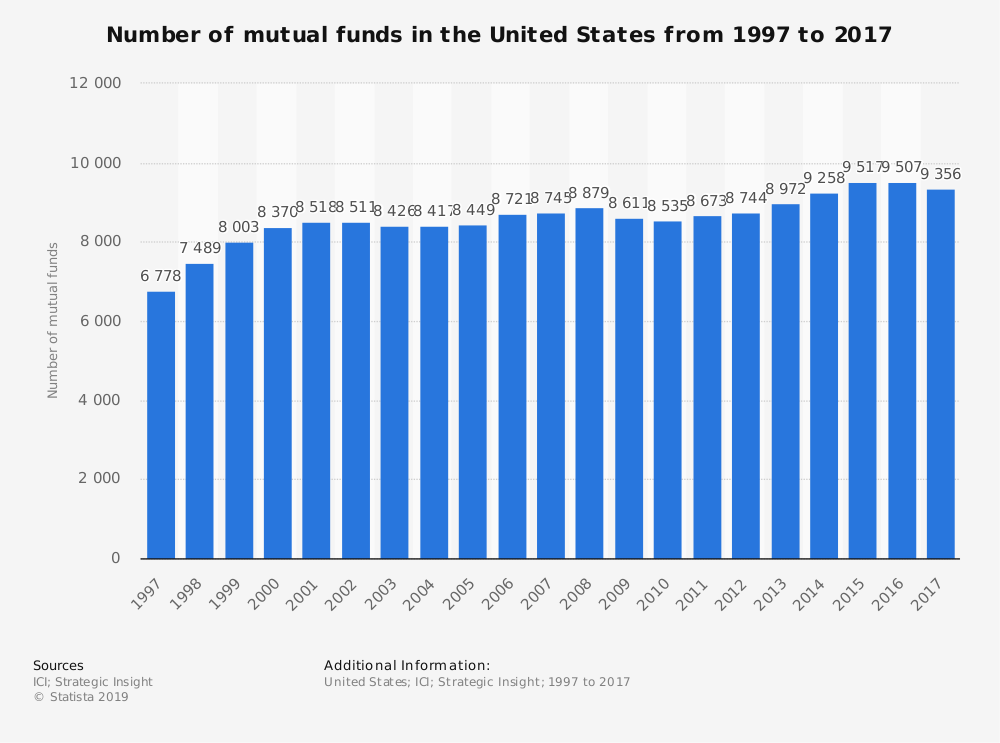 #3. Net new cash flow to the mutual funds in the United States totaled $174 billion in 2017, with 24% of household financial assets held in investment funds during the year. (Statista)
#4. Over 178,000 jobs are provided in the United States because of the mutual fund industry. (Statista)
#5. The combined assets of the nation's mutual funds increased by over $946 billion in January 2019, representing a 6.4% change from the year before. The strongest growth came in domestic equity, which saw an 8.9% increase. World equity saw an 8% increase as well. (Investment Company Institute)
#6. Tax-exempt money market accounts saw a 3.1% decrease in funding as of January 2019, dropping 3.1% from the year before. (Investment Company Institute)
#7. The total of retirement market assets in the United States was $28.2 trillion, with 61% of households having at least one tax-advantages retirement savings plan that they maintain. Over $8.8 trillion in DC and IRA plan assets are invested in mutual funds right now. (Investment Company Institute)
#8. There are 57.3 million households in the United States which are currently working with the mutual fund industry right now. That equates to over 101 million people. The average median mutual fund assets for these households is $120,000 spread across three different funds. (Investment Company Institute)
#9. Over 40% of the increase in total net assets for regulated fines in 2017 came through the strong games that were found in stock markets around the world. There was also a general appreciation of foreign currencies against the greenback during the year. (Investment Company Institute)
#10. In 2018, 16 out of the top 20 fun buying that flows more passive mutual funds and ETFs. These garnered approximately $143 billion. (Deloitte)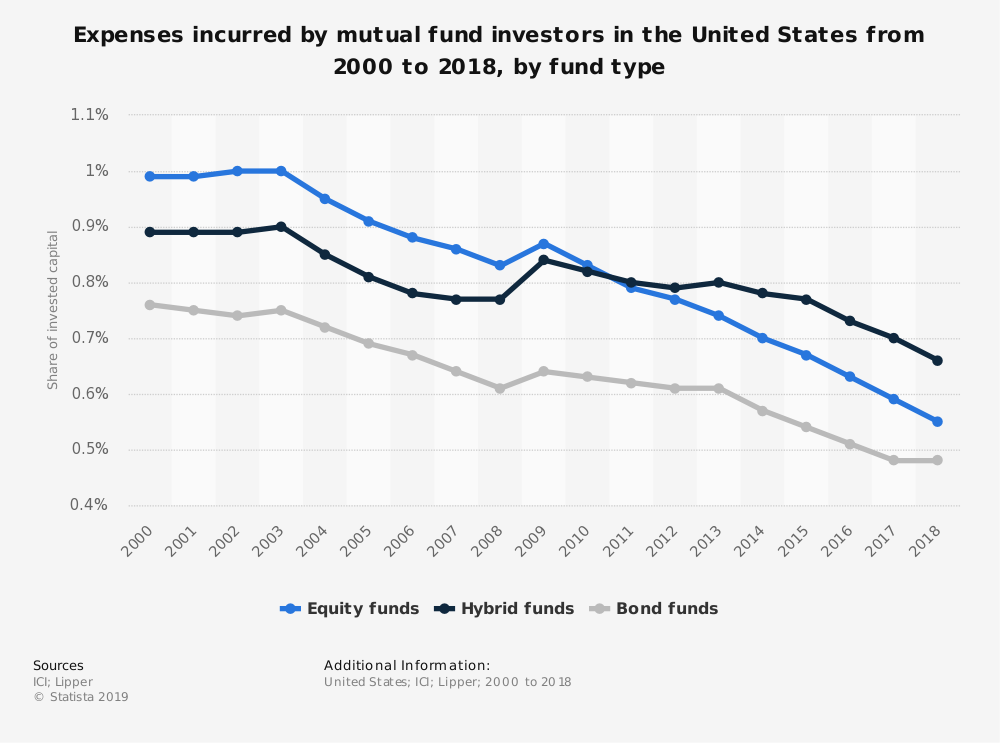 #11. Over 86% of the active funds in the United States have underperformed their benchmarks on a net-of-fees basis over the past 10-year period that ended in 2017. European active funds did not achieve results that were much better, with over 85% underperforming on their benchmarks. (Deloitte)
#12. Two-thirds of investors who prefer a mutual funds say that they are looking to achieve an annual return that is between 4% to 6%. (The Balance)
#13. Most mutual fund investors do not think that they can achieve an above average return, was only 6% taking that a 10% annual return is possible. (The Balance)
#14. 22% of investors state that the primary reason they avoid mutual funds is because of the high fees which are charged to manage to them. The lucrative margins in this industry average about 30%, and they have not been squeezed much even though rising costs related to increased regulation and technology improvements have occurred. (Barrons)
#15. Even though there have been five consecutive years of redemptions, the assets of many mutual fund firms have grown over that time. Some companies have experienced an overall growth rate has high as 60%. (Barrons)
#16. If a firm in the mutual fund industry where to cut their fees by 10%, then they would need to raise up to 30% in new assets just to get back to even. (Barrons)
#17. Some countries mandate investing activities for mutual fund investing that can further limit returns. The new Sebi norms in India require that largcap mutual funds invest at least 80% of their assets in the top 100 companies in terms of full market capitalization. Midcap funds must invest a minimum of 60% in the 101-250 ranked companies, while smallcaps must invest 65% in the 251st ranked company and below. (India Times)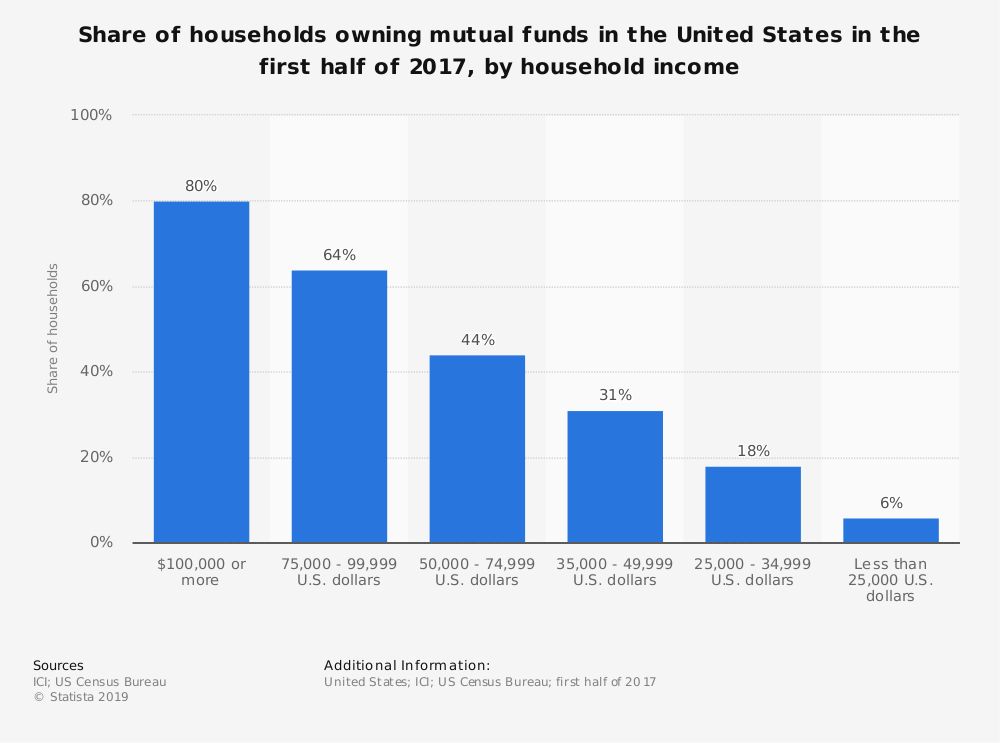 Mutual Fund Industry Trends and Analysis
When there are robust market returns happening, then it can hide the pain that investors and asset managers are feeling. The mutual fund industry appears to be healthy on the surface, but you shouldn't judge a book by its cover. Many of the challenges for this industry come down to a battle between active and passive management. Investors are becoming increasingly conscious about price, which means the rise of ETFs has made index investing easier than ever before.
Fees are the primary issue of concern that will drive the mutual fund industry toward a fight for its survival. Prices on actively managed funds have fallen by over 15% since 2009. Even though transformative acquisitions thanks to a long-term bull market have helped to increase investor wealth, there is complacency instead of disruption. Only 856 companies are offering funds to investors in the United States, which is down 3% for 2015 figures.
That's not to say that the mutual fund industry is on its last legs of life. A few small changes could encourage rapid growth once again. For the last part of the 20th century, these products were often treated as the one best way to diversify your portfolio while assuming minimal risk. With some innovation and creativity, it could become that way again.