Indian weddings have one primary goal: to create a memorable experience by focusing on as much opulence as possible. That creates an opportunity in India, the UK, and in other locations around the world to celebrate Indian weddings through a supportive industry.
Although Indian weddings have started to become more modern with their look and structure, there is still opulence to be found. Couples might opt to spend less on dresses or jewelry and more on a trip to an exotic location for their honeymoon – assuming that they aren't having a destination wedding in the first place.
99% of couples who decide to have a traditional Indian wedding will take a honeymoon. The trip is booked 4 months in advance, as an average length of 8 days, and for the Indian population living in other countries, 90% of them will register for wedding gifts.
Unlike other countries, however, many Indian destination weddings are the first wedding for each person. Outside of India, 80% of the couples who have a destination wedding have been married at least once before.
Fascinating Indian Wedding Industry Statistics
#1. The Indian wedding industry is the second-largest in the world, just behind the U.S. market. The total value of the Indian industry is an estimated $50 billion, compared to the $70 billion in the United States. (The Hindu Business Online)
#2. In the UK, there are an estimated 1.4 million people of Indian descent living in the country, creating a supplemental industry that is valued at GBP 12 billion. (Business Insider)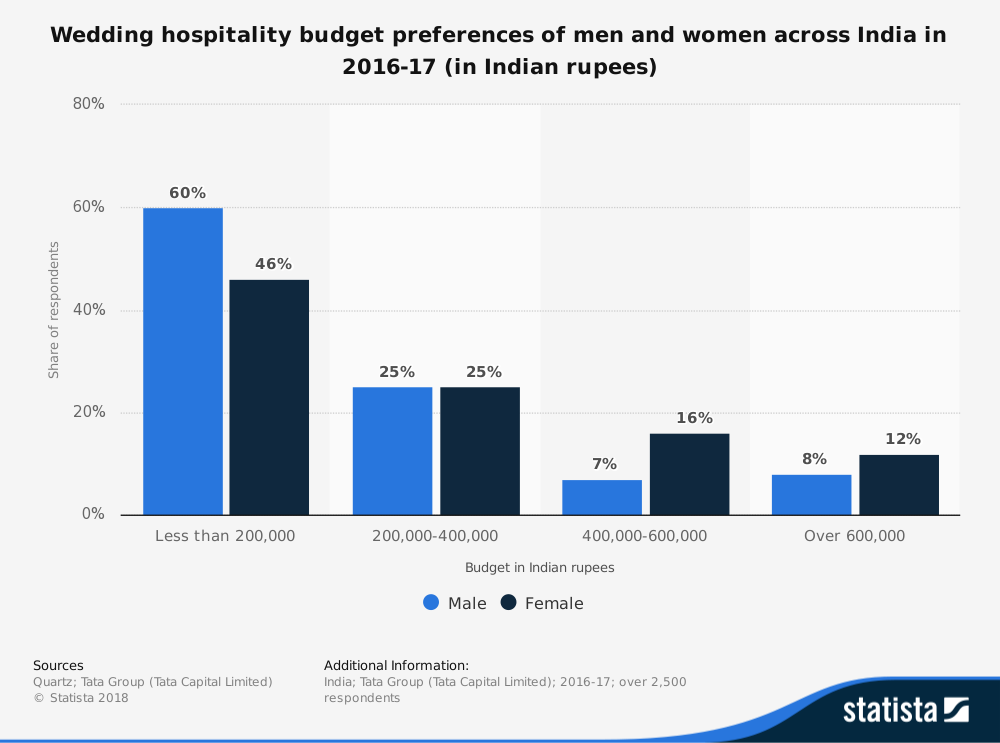 #3. More than 10 million weddings take place in India each year. For many analysists, that means the global Indian wedding industry is one that is recession-proof. (Business Insider)
#4. More than 20 high-end bridal designers attend the Aashni and Company Wedding show each year. The show first launched in 2015 to feature dresses from India and Southeast Asia by designers in the UK, earning more than GBP 200,000 in sales. (Business Insider)
#5. In the typical Indian wedding that is hosted in the UK, the bride may spend up to GBP 18,000 on the dresses alone. (Business Insider)
#6. Families might spend up to GBP 200,000 on elaborate bracelets, earrings, necklaces, and other jewelry items for the whole family as part of the Indian wedding. (Business Insider)
#7. Some estimates for the wedding industry in India suggest that the value of the sector could be over Rs 100,000 crore, with growth rates topping 30%. The estimated cost of a no-expenses-spared wedding could be as high as Rs 5 crore. (Indian Retailer)
#8. India has one of the lowest average ages at marriage in the world today. For men, their average age at marriage is 24.9, while for women, it is 20.7. In comparison, the average age of marriage in the UK is 28.7 for men and 27 for women. (Times of India)
#9. Underage brides in India have experienced a sharp decline in 2016 after a decade of hard work. The number of marriages that involve a girl under the age of 18 has fallen from 44% to 30% – though the number is still much higher than most other nations. (Times of India)
#10. In the top 15 cities in India, up to $300,000 may be spent on a wedding celebration that may last for up to 5 days. (Fashion United)
#11. There are over 900,000 weddings per month that take place in India, with over 10 million marriages celebrated throughout a full year. That means there are 30,000 weddings per day for the Indian wedding industry to service. (Fashion United)
#12. The average clothing budget for a wedding in India is $375,500. Wearing an exclusive sari for the event can cost as much as $110,000. Up to 80% of a designer's business in India comes from bridal couture. (Fashion United)
#13. In the United States, the average cost of an Indian wedding is $65,000. High-end weddings which are celebrated in the traditional style may cost upwards of $200,000. (Fashion United)
#14. The price range for men's clothing that is considered suitable for an Indian wedding is much lower in every market. Even in India, clothing options for men by top fashion designers can be as low as Rs 3,500 – or about $45. Even high-end items are just Rs 15,000, or $200. (Fashion United)
#15. In India, the average person will spend 20% of their total wealth at the time of the wedding on functions, needs, or wedding-related items. (The National)
#16. Traditional matchmakers who meet with brides and grooms in India may charge a fee of Rs 50,000, then charge up to Rs 500,000 to plan the wedding once a successful match has been made. (The National)
#17. The wedding planning market in India is expected to hit Rs 1.6 trillion by the year 2020. Many wedding planners have begun to charge up to 15% of the wedding budget as their consultation fee. (The National)
Indian Wedding Industry Trends and Analysis
Because India has one of the largest population centers in the world today, it will continue to boast one of the largest wedding industries in the world as well. Over the next 10 years, as incomes rise in the country, the wedding industry may begin to close the gap between it and the United States.
Even though far fewer weddings are performed in the U.S., the overall cost of the wedding itself is much higher. No amount of opulent spending in India can match the spending in the U.S. which is considered standard. In the United States, the average wedding costs $30,000 on its own without anything fancy or elegant. For a wedding in New York City, the average cost is over $76,000 – for something basic.
The primary trend in Indian weddings is to modernize without disregarding the time-honored traditions. Modern dresses infused with traditional details are becoming popular. Spending has shifted from jewelry which may never be worn again to trips that everyone can enjoy for a destination wedding.
Expect the trends seen around the world begin to impact India shortly. As for industry growth, it will keep pressing forward. People will still get married, and they'll turn to this industry for help.