Hummus is a thick spread that is made from a combination of ground chickpeas, sesame seeds, olive oil, garlic, tahini, and lemon. It is a dish which originates from the Middle East, growing in popularity to be available in restaurants and stores around the world.
Variations on flavor profiles have helped to expand the hummus market in recent years. Shoppers can find anything from spicy pepper versions to a hummus with extra garlic and olives.
Authentic hummus is an excellent source of B Vitmains and several minerals. In just one serving, you receive 7% of your recommended daily value for dietary fiber. One cup of hummus contains 14.5 grams of protein and can help to stabilize blood sugar levels.
Globally, the flavor variations of hummus are less plentiful, with an emphasis placed on how the classic hummus is made. There are some variations internationally that are difficult to find in the U.S. market, however, such as Israeli options that include fava beans, mushrooms, and even meat products.
Interesting Hummus Industry Statistics
#1. In 2015, the most popular brand of hummus sold in the United States was Sabra. It held a dollar market share of more than 60%. In 2006, Sabra held a market share that was barely above 17%. (Statista)
#2. Sabra also holds a 24% market share for the Canadian hummus market. (Statista)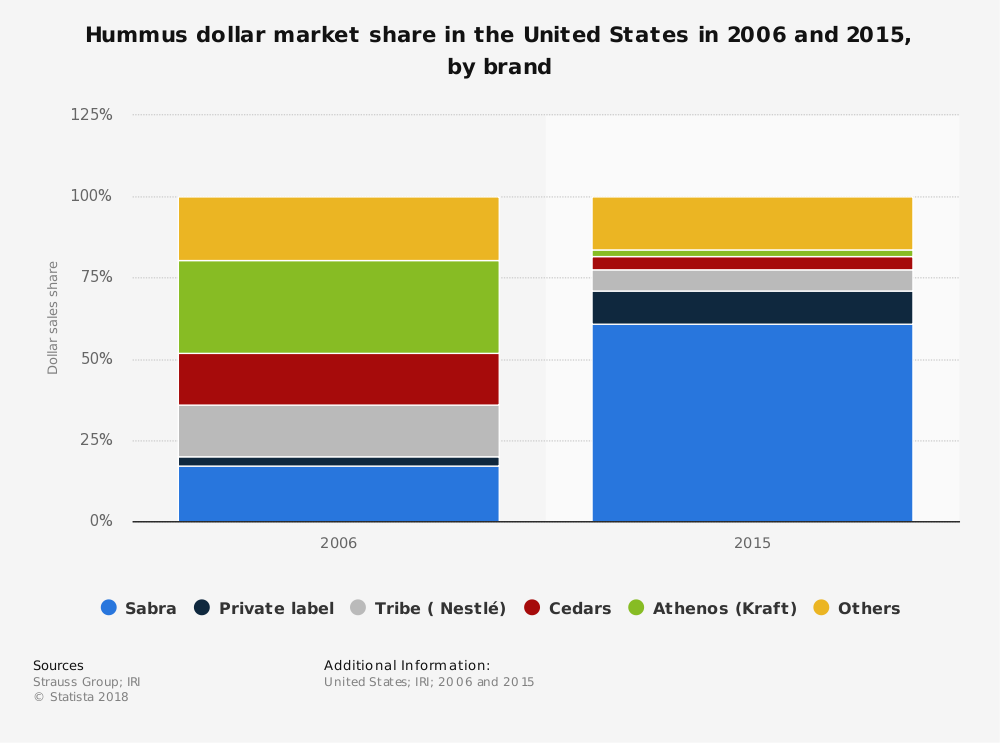 #3. Private label brands of hummus in the United States have seen the same levels of growth as Sabra since 2006. In 2015, private label hummus accounted for more than 10% of all product purchases for consumers. (Statista)
#4. In 2016, about 1 in 4 homes in the United States stocked at least one hummus product in their refrigerator. That accounts for industry revenues that are more than $725 million annually. (NBC News)
#5. In 1996, the U.S. market for hummus total just $5 million in revenues. (NBC News)
#6. In 2009, farmers in the United States produced about 25 million pounds of chickpeas. To meet the increase in hummus demand in the U.S. market, farmers in 2016 produced over 100 million pounds for the first time. (NBC News)
#7. In 2015, Sabra suffered a setback with their hummus production as more than 30,000 cases of their hummus were recalled because of a possible contamination with Listeria. No illnesses were reported after the recall, however, which helped sales to continue being strong for the brand, which is partially owned by PepsiCo. (NBC News)
#8. In a 2014 survey of American consumers, an estimated 80 million people in the population have never heard of hummus. (Fast Company)
#9. Since signing on with PepsiCo, Sabra's brand has grown by more than 400%. That means they are earning more than $370 million annually from their hummus sales. (Fast Company)
#10. The global market for hummus is expected to reach a total value of $1.1 billion by the year 2022. If it is able to achieve this forecast, that would reflect a CAGR of 2022. (Market Research Future)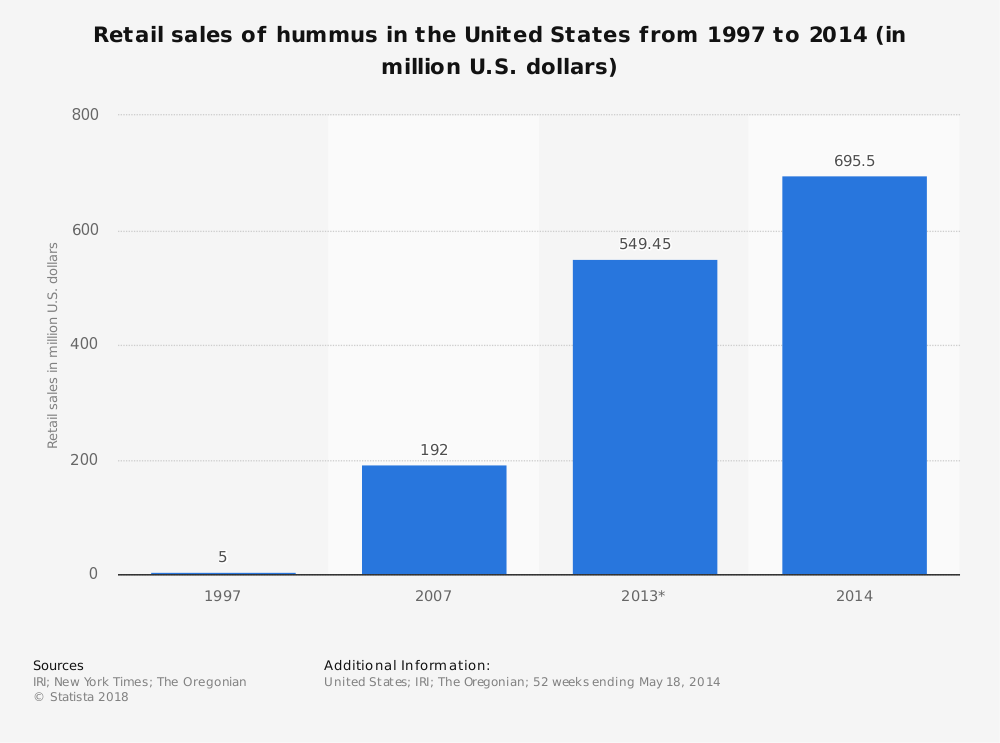 #11. From 2016 sales figures of all hummus flavors, the classic hummus accounts for the highest market share. Almost 9% of all hummus sold reflects the classic category. (Market Research Future)
#12. When looking at the markets for pastes and spreads, hummus accounts for more than half of all sales. (Market Research Future)
#13. The average farmer who grows chickpeas in the United States yields an average of 1,750 pounds per acre. (Agricultural Marketing Resource Center)
#14. Washington is the leading state in the U.S. for growing chickpeas, accounting for 36% of total production. Idaho is just behind in second, providing 35% of the overall market. Montana also provides a healthy 20% of the overall chickpea market. (Agricultural Marketing Resource Center)
#15. The average price for U.S. chickpeas in 2016 was $55.17 per hundred-weight, which reflects an 18% increase from the year before. (Agricultural Marketing Resource Center)
#16. About 20% of the chickpea crop in the United States is contracted. The remainder of it tends to be sold on the cash market. Just about all of the chickpeas that are grown are marketed through processors before they end up at their final destination. (Agricultural Marketing Resource Center)
#17. The average American consumes about 1.85 pounds of hummus each year, which is up from 1.2 pounds from the year before. (Agricultural Marketing Resource Center)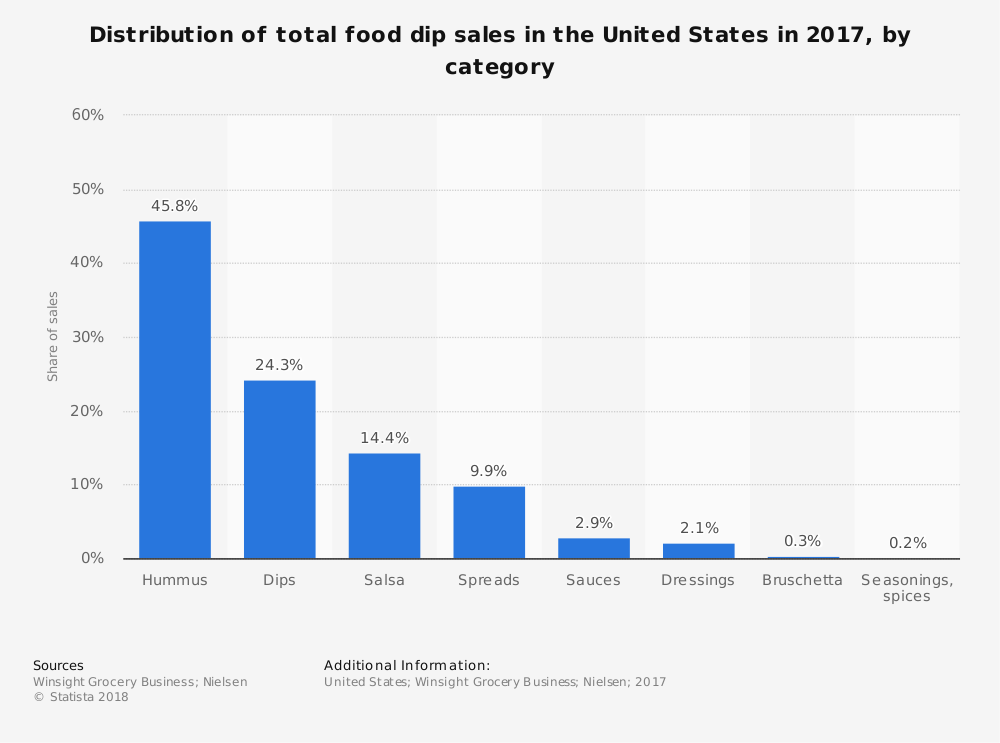 Hummus Industry Trends and Forecast
In 2016, the United Nations declared that it would be the International Year of Pulses. The term "pulses" is another term that refers to legumes, such as chickpeas. The goal of the promotion was to encourage the consumption of foods like hummus because they are nutritious and sustainable.
With a push to feed the world with affordable, healthy foods, hummus comes immediately to the top of the list. It stores well when made properly, meets many dietary demands, and the market today supports a variety of flavor profiles to encourage more people to try it.
The domination of Sabra in the hummus market, especially in the U.S., does create some worries for the industry as a whole. If something happens to Sabra, who fills in the gaps for consumers?
Americans are putting hummus into and onto everything, just like they do in the Middle East. You can find recipes from hummus brands that include hummus mashed potatoes. There is still a lot of potential for growth in this market, especially in the private-label industry, that can encourage big-brand innovation.
If you haven't tried hummus, get ready. There will be a push to put it on your table soon.