Maple syrup is usually made from xylem sap. Sugar maples, black maples, and red maples are the most common trees that produce this sap, but any maple species can be used.
Canada has the perfect environmental conditions for producing maple syrup. When maple trees grow in cold climates, they store starch in their roots and trunks for the winter. As winter turns into spring, the starch is converted into sugar. Holes are then drilled into the tree to collect this sap, which is then processed through evaporation to create syrup.
The process of collecting and refining maple syrup was started by the tribal cultures of Canada and the United States. As settlers came over, their techniques were learned and gradually refined. It wouldn't be until the 1970s, however, that technological advances allowed the Canadian maple syrup industry to really take off.
Interesting Canadian Maple Syrup Industry Statistics
#1. The Canadian maple syrup industry produces about 80% of the pure maple syrup that is available to the world market, making it the leading global producer of all maple products. (Agriculture and Agri-Food Canada)
#2. The province of Quebec is responsible for a majority of the maple syrup the industry is able to produce each year. In 2015, Quebec produced more than 90% of the country's maple syrup. (Agriculture and Agri-Food Canada)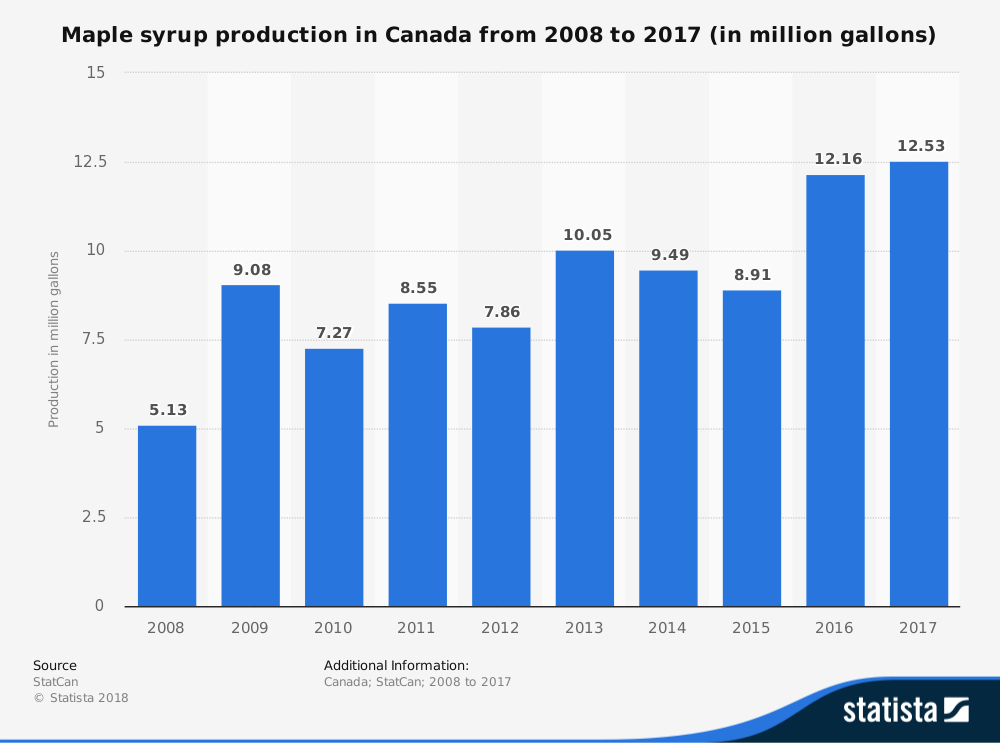 #3. In 2015, the Canadian maple syrup industry was able to produce a total of 8.9 million gallons of syrup. This was down 6.5% from the year before, but still resulted in a total industry value of $358 million. In 2017, however, Canada set a record by producing 12.5 million gallons of maple syrup. (Agriculture and Agri-Food Canada)
#4. Quebec accounts for 94% of the maple product exports that come from Canada. New Brunswick is second, contributing 4.9% of the total products for the industry. (Agriculture and Agri-Food Canada)
#5. More than 63% of the maple syrup exports that the Canadian syrup industry produces are destined for the United States. Germany receives 8.6% of industry exports, while Japan receives 7.3% of total exports. (Agriculture and Agri-Food Canada)
#6. More than 7,500 maple farms are currently active in Quebec. Another 2,600 are active in Ontario. (Agriculture and Agri-Food Canada)
#7. Despite the high numbers of active maple farms in Ontario, the 200+ farms in New Brunswick product about 40,000 gallons more syrup. (Agriculture and Agri-Food Canada)
#8. When maple products need to be imported by the syrup industry in Canada, they are always sourced from the United States. No other country has a maple syrup import relationship with the industry. (Agriculture and Agri-Food Canada)
#9. There are more than 8,600 maple syrup businesses currently operating in Canada outside of the maple farms that produce the syrup. (Agriculture and Agri-Food Canada)
#10. In 2007, the Canadian maple syrup industry actually exported more product to the United States than the industry produced that year, dipping into domestic reserves stored from previous years to continue meeting global demands. (Agriculture and Agri-Food Canada)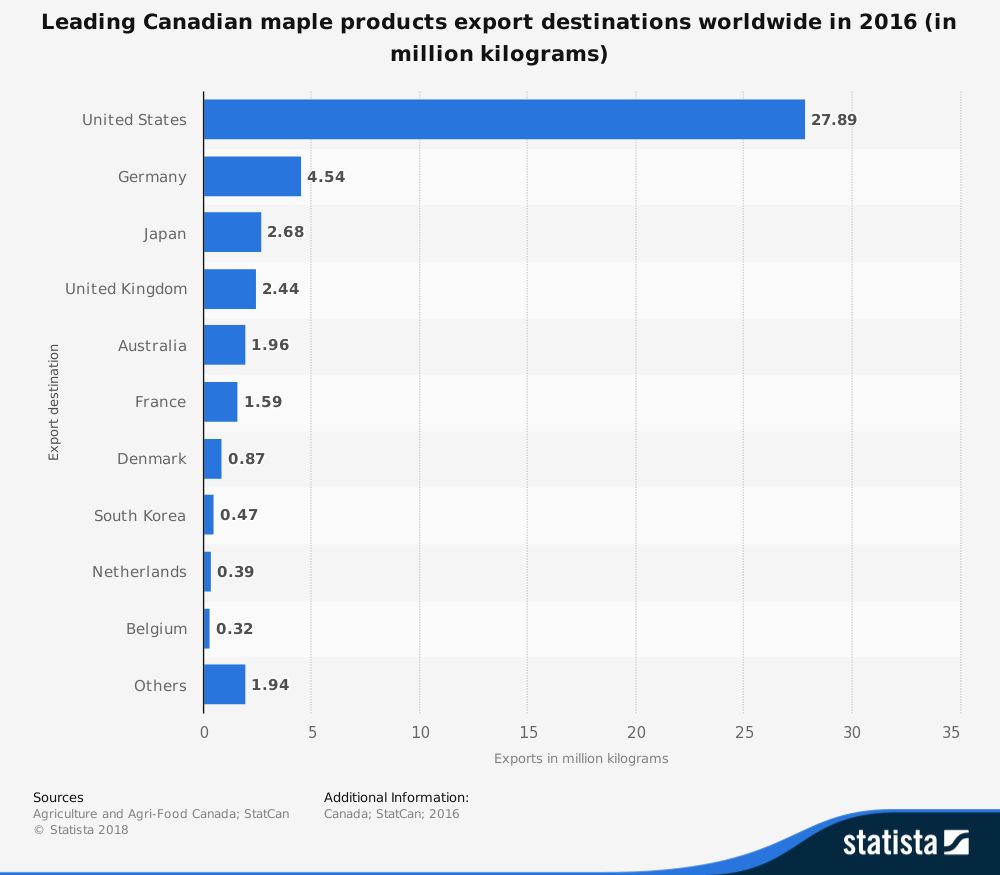 #11. For most maple farms, about 40 gallons of sap are required to make 1 gallon of maple syrup. Most maple trees in Canada are able to produce about 15 gallons of viable sap per season. For sap to be usable, it must have a sugar content level of 66%. (Mental Floss)
#12. Real maple syrup is very different from artificial maple syrup. Cheaper products use corn syrup and cellulose gum to create a consistently brown color. Real maple syrup actually comes in 5 different color grades. (Mental Floss)
#13. Exports to Korea involve more maple sap than they do syrup. Korean maple trees also produce sap that some people may consume in large quantities – as much as 5 gallons of it per serving. (Mental Floss)
#14. Just one gallon of maple syrup weighs about 11 pounds. Using traditional tapping methods, a tree must be at least 30 years old and 12 inches in diameter before it can be tapped. (Mobile Cuisine)
#15. Using traditional methods, about 10% of the sap that a tree produces is collected from each tap. That means no permanent damage to the tree occurs. Some of the older farms in Quebec have maples that have been tapped for more than 150 years. (Mobile Cuisine)
#16. The sap collection season in Canada can be as short as 8 weeks. There is a period of 20 days or less, depending upon weather conditions, where the sap flow is the heaviest and the easiest to access. (Mobile Cuisine)
#17. Although production levels are rising in Quebec and New Brunswick, the Canadian maple syrup industry is seeing mixed results throughout the country. In the prairies, production levels experienced an increase of just one-third of what Quebec achieved. Production in Ontario was down by more than 50%. (CTV News)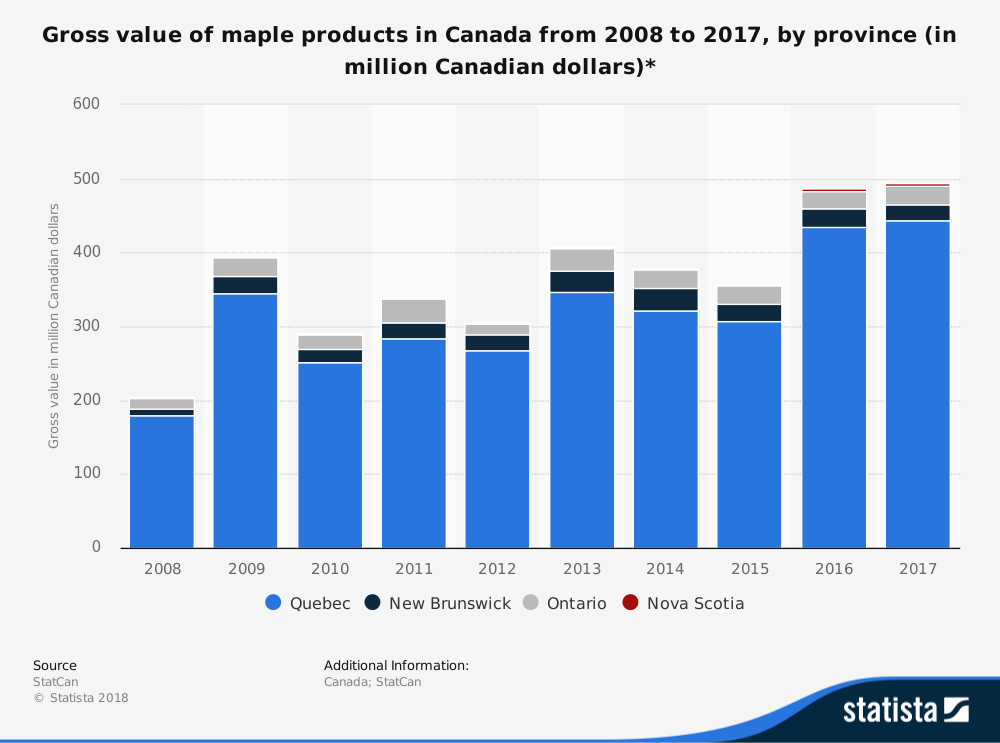 Canadian Maple Syrup Industry Trends and Analysis
Measuring the total production values achieved by the Canadian maple industry is somewhat difficult. Various maple products are produced, including taffy, sugar, and various confections. These products are then calculated into a syrup weight in gallons, which makes converting total figures difficult.
Exchange rates between the Canadian dollar, the U.S. dollar, and other currencies can alter the final value calculations achieved by the industry as well.
As the primary producer of maple syrup for the rest of the world, the Canadian industry is expected to thrive. The only issue of concern for the industry are potential changes in weather patterns. During unfavorable conditions, the industry saw unprecedented drops in total production value. Then, in 2016-2017, when favorable conditions returned, the industry was able to achieve a record harvest.
Weather is not entirely predictable, which means the health of the industry is unpredictable. With so much of the industry based in Quebec as well, provincial issues will always provide a background threat to the industry as a whole.