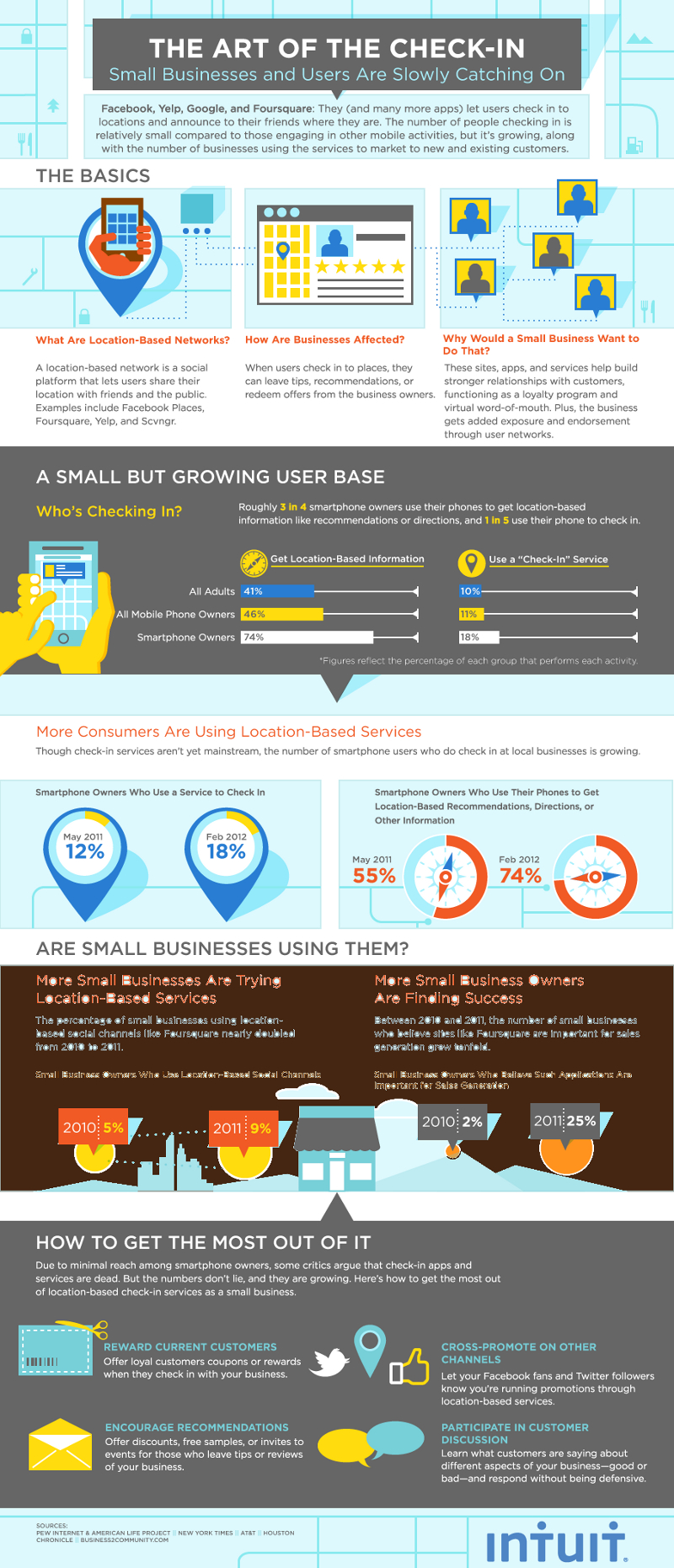 Are You Caught Up With The Check-In?
You may or may not have joined in on the social media craze that is Facebook, Twitter, Instagram or any other website that allows the newest tech generation to instantly post their opinions, thoughts and now locations. With the addition of the "check-in" app, your friends and loved ones can keep up with where you are, what your doing, and if it's worth their time and money, all from the comfort of their desk.
So what does this mean for the local business owner? This means you have the opportunity to reach millions of potential customers all over the world. One person's experience now becomes public to 700 people. A positive tweet about a company's product is instantly seen by hundreds of friends. If the post is "re-tweeted" or "Liked", it is automatically posted to a new person's wall and viewable to thousands more.
No Longer Print
Skeptics may have once believed that the old-fashion flyer or newspaper ad was the best way to advertise, but recent research shows that more and more business owners are jumping on the social media bandwagon and utilizing these sites. More importantly, they are utilizing their fan base to increase product review.
Staying Local
So how do you get the social media word out? Start by ensuring that your location is accessible by all apps. If you are a new business you may have to contact administrative support to verify your establishment and it's true location. Now a days it could mean losing business if a GPS or Maps app cannot locate your position. Once you are on the "map" your place of business can be found using any app.
Free Advertising
If you have not yet created social media accounts for your place of business, you are truly missing out out on a free opportunity to advertise. You can promote by offering discounts to customers who submit a review for your establishment. Do not underestimate the power of "Free." Offering specials for "friends" and for people "Liking" your pages can allow your business the exposure it needs to thrive.
It is also important to develop a comfortable atmosphere for feedback and suggestions. You must be prepared to combat the negative with a positive vibe. Those that are hidden behind a computer are much more likely to give a piece of their mind. Luckily, this gives the business owner the opportunity to apologize and correct the negative accusations in a public place.
Social media outlets can prove to be valuable to any establishment, from a personal pet groomer to a bustling cafe. Check-in at your next outing, "like" their page or become a fan publicly. You never know who you may lead to their doors.