If you're tired of some unwanted hair, then you don't need to shave it, pluck it, or wax it any more. You can choose to have laser hair removal services to permanently reduce the hair you have in the affected area.
Laser hair removal works by beaming the light of the laser directly into each hair follicle. The pigment within the follicles absorb the light, which eventually destroys the hair. Some people see immediate results, while others may require 2-4 visits before they start seeing the benefits of this non-invasive treatment.
There are many benefits to choosing laser hair removal over other options that are available today. It can target precise spots, treat various skin types effectively, and leave the skin undamaged. In return, you must avoid sun exposure for up to 6 weeks before and after the treatment, as the sunlight makes it more difficult to remove the hair.
Important Laser Hair Removal Industry Statistics
#1. A laser hair removal appointment only takes about 20 minutes. Results begin to be seen after 2 treatments, with it taking about 12 weeks to achieve full results. (Cosmopolitan)
#2. Most people report a 90% permanent reduction in hair growth in their treated areas. Fluctuating hormones, however, can cause some of the hair to grow back. Some people may even see additional hair growth. (Cosmopolitan)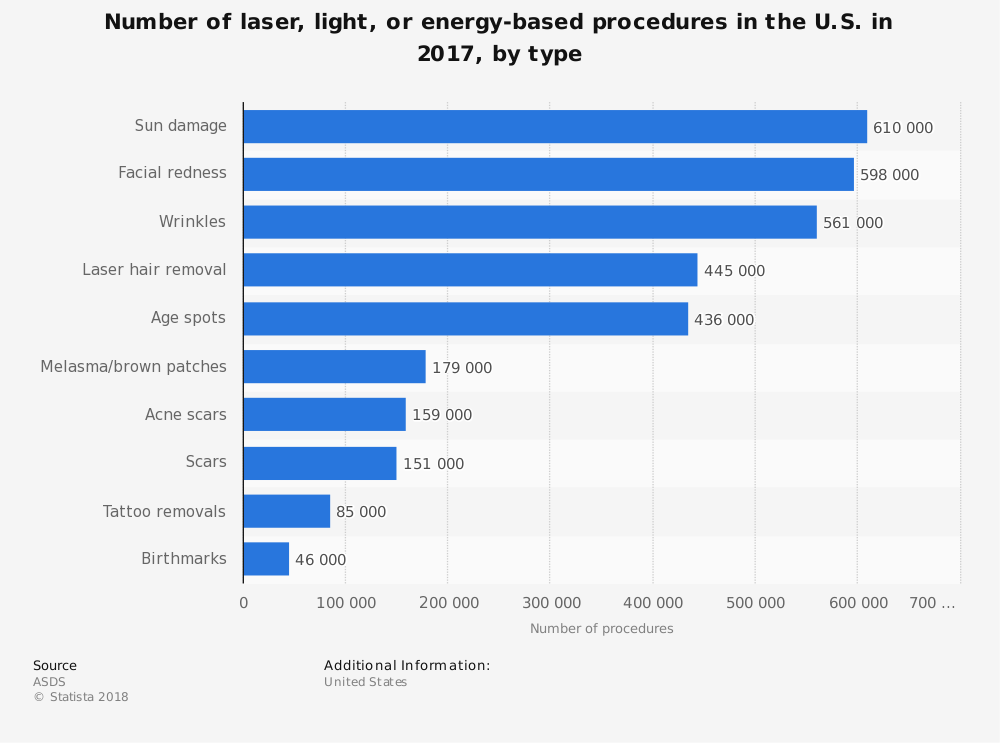 #3. The average cost-per-session depends on the provider offering laser hair removal treatments. In the United States, the price range varies from $50-$300, depending upon what treatment area has been chosen. (Good Housekeeping)
#4. There were 1.1 million laser hair removal procedures performed in the United States in 2016. In total, more than $16 billion was spent on cosmetic procedures like this one. (National Laser Institute)
#5. The number of laser hair removal procedures performed in the U.S. has grown by 51% since 2000. (National Laser Institute)
#6. Almost 2.8 million Americans used a hair removal treatment other than waxing 4+ times in 2017, including laser hair removal. (Statista)
#7. Total revenues generated by the laser hair removal industry topped $244 million in 2009. Since then, industry figures have been combined into the overall hair removal industry. (The Hair Removal Journal)
#8. 82% of the customers served by the laser hair removal industry are women. 60% of people in the 18-29 age demographic say that they want to get their hair removed with this treatment option. (The Hair Removal Journal)
#9. The average price for a treatment that targets arm hair is about $125. In comparison, the average treatment price which targets back hair is about $420. (The Hair Removal Journal)
#10. 11% of the people who have experienced at least one laser hair removal session said that they experienced no pain at all. 84% of patients said that they experienced mild-to-moderate pain levels during the treatment. (The Hair Removal Journal)
#11. 87% of laser hair removal clients say that they would have the procedure performed again. (The Hair Removal Journal)
#12. The U.S. West is the most popular region for laser hair removal treatments, accounting for 31% of industry revenues. The East Coast generates another 22% of revenues in the United States. (The Hair Removal Journal)
#13. 45% of men who receive laser hair removal services say that their targeted hair was totally removed. Another 22% of men say that at least 75% of their unwanted hair was removed. (The Hair Removal Journal)
#14. The total value of the hair removal industry worldwide in 2017 was $880.2 million. By 2022, the value of the industry is expected to reach $1.35 billion. (Statista)
#15. The majority of laser hair removal procedures are performed on patients above the age of 40. In 2009, over 300,000 of these procedures were performed. For the 30-39 age demographic, just 34,000 procedures were performed. (Real Self)
Laser Hair Removal Industry Trends and Analysis
The laser hair removal industry is still relatively young, especially in the United States. The FDA approved the first commercial lasers for these treatments in 1997. That means there is still a risk to being in this industry, while there is still hope for revenue gains.
There are numerous advantages that are potentially available for those looking at the laser hair removal industry as a treatment option. After the treatment cycle is complete, over 2 hours of time is saved because shaving is no longer required. About $200 per year is saved on shaving products.
Even with a high-priced full session, the average lifetime cost to remove unwanted hair by laser removal is just $3,000. For shaving, the lifetime cost is more than $10,000. The lifetime cost for waxing procedures is more than $23,000.
There are some challenges the industry must face, including the limited sunlight exposure requirement that reduces the number of potential clients available to the industry. New technologies have already opened up more skin types and hair growth options for treatment. If this attitude toward innovation continues, then the industry looks to be setup for another sustained period of growth in the next 10 years.