In the United States, total U.S. salon services, which include retail sales, grew by 2% in 2017. About 257,000 locations sell retail products, including hair care products. The total salon count, however, has declined by 5% as the industry has begun to consolidate into businesses which offer salon suites and commission-based salons begin to close.
Certain consumer trends have begun to affect the industry as well. There are a number of women who have started embracing their natural gray, silver, or white hair, which has reduced the total number of salon and stylist visits each year. Hair coloring services still grew by 2.6%, but was primarily financed by Baby Boomers who wanted coverage for their gray.
Men tend to go to sports-themed barbers or chain hair stylists instead of commissioned-based services.
One positive spot for the hair stylist industry is the increase in blow-dry bars, which saw 25% growth in both revenues and the number of locations offering services.
Interesting Hair Stylist Industry Statistics
#1. Hair salons in the United States generate about $44 billion in revenues each year. From 2012-2017, the industry saw an annual average growth rate of 1.8%. (IBIS World)
#2. There are about 1 million hair salons currently active in the United States, providing employment opportunities for about 1.4 million people. (IBIS World)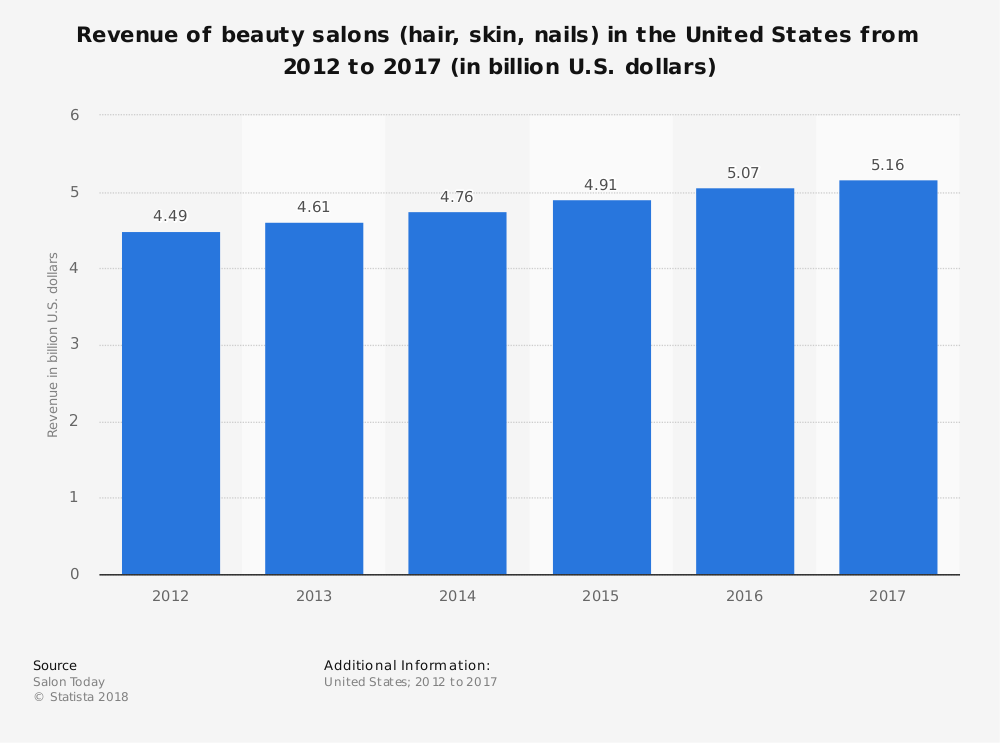 #3. Industry profits for hair stylists have risen from 1.9% in 2009 to 5.7% in 2014. Profit gains are being driven by an increase in sales of high-value products, which typically have larger profit margins than generic or low-value products. (SBDC)
#4. Hair stylists earn one of the lowest hourly wages for barbers, hairdressers, and cosmetologists in the United States. The median hourly wage, before tips, is $10.91. (Bureau of Labor Statistics)
#5. Great Clips saw 4.5% growth in 2017, while Sport Clips saw 10.2% growth. Family-economy chains are taking a majority of the growth options seen in the industry. (Salon Today)
#6. 45% of the revenues generated by the hair stylist industry come from cutting or styling services. About 17% of the revenues come from tinting and hair coloring services, while 15.9% of the revenues are for nail care services. (IBIS World)
#7. 70% of women in the United States say that they use hair coloring products. (The Atlantic)
#8. Consumers between the ages of 25 to 34 represent more than 16% of the market for the hair stylist industry, but because of their lower income levels, represent fewer expensive salon item purchases. In comparison, consumers who are 35+ in age present 52.4% of industry customers. (IBIS World)
#9. In the United States, you are more likely to be a hair stylist in Vermont than any other state. About 1 in 281 employment opportunities in the state involves hair care. (U.S. Department of Commerce)
#10. More than 45,000 people are employed in the hair stylist industry in Texas, which is the highest number for a single state in the U.S. (U.S. Department of Commerce)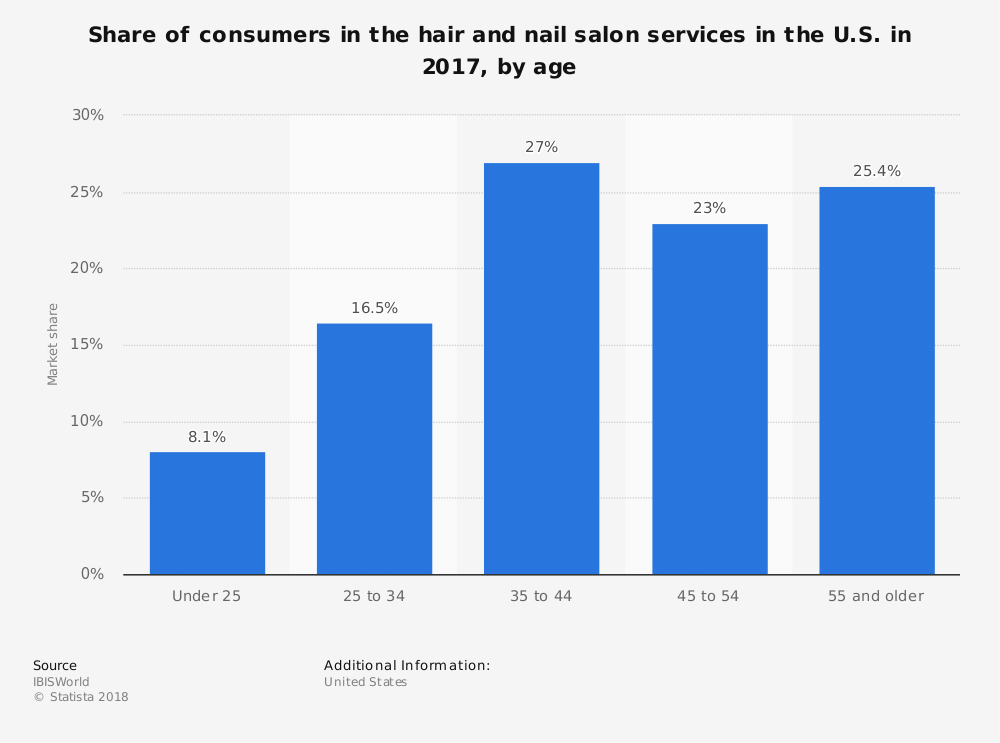 #11. The average tuition cost to attend a beauty school in the United States is $13,751. Some cosmetology programs, however, may cost as little as $2,625. (Toni and Guy Academy)
#12. Hair stylists in Washington, D.C. earn more than any other industry professionals in the United States. Their average hourly wage is $22.85. Hawaii comes in second at $17.16, with Washington third (16.52), Connecticut in fourth ($14.39), and Vermont in fifth ($14.23). (Bureau of Labor Statistics)
#13. Utah saw the highest employment growth rate in the industry in the past 10-year period, achieving 28% growth. They were followed by Georgia (27%), Delaware (26%), Massachusetts (23%), and Illinois (22%). (Bureau of Labor Statistics)
#14. There are currently more than 1,500 accredited beauty schools in the United States. About 160 of them are located in California, which leads the country. The average length of a cosmetology program in the U.S. is about 13 months. (Toni and Guy Academy)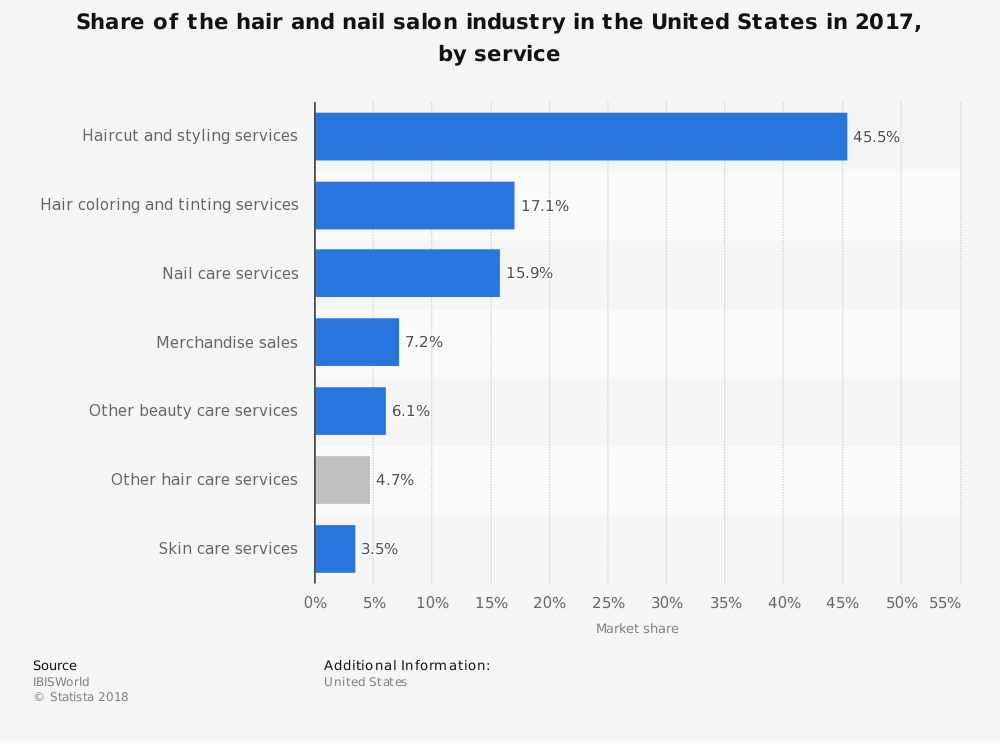 Hair Stylist Industry Trends and Analysis
The hair stylist industry is seeing a change in consumer preferences as people begin to embrace themselves in authentic ways. Although hair coloring, tinting, and different styling options are still seeing growth today, by the end of the next 5-year cycle, that growth will finally begin to taper off.
There is also consolidation happening in the industry, even though 93% of all locations in the U.S. still employ fewer than 10 people. Consumers are opting for larger suites that offer a wide range of products and services more often than their hometown stylist who works independently. Although the 1.4 million people who work in this industry will still see opportunities, how their jobs are structured will likely change in the next decade.
Men will continue returning to this industry in the coming years as well. At the moment, just 12% of employees within the industry are men. That will increase in the next 5 years as more men seek out hair services, especially with a preference for male providers.