Aluminum foil was the natural evolution of tin foil products that were invented in the late 19th century. Many even call aluminum "tin foil" because of the history of this product. When aluminum foil was created for the market in 1910, it quickly supplanted tin as the preferred foil because it didn't leave the same metal aftertaste on foods that were wrapped with it.
In 1911, Tober began to wrap its chocolate bars in aluminum foil, which is a process still found today on their Toblerone product. By 1912, Maggi was using aluminum foil to pack stock cubes and soups. By 1913, aluminum foil had made it to the United States, where it was used to wrap gum, candy bars, and Life Savers candies.
What makes it such a useful product is the fact that aluminum foil is very malleable. It can be converted into a thin sheet, folded, packed, or molded. It provides a barrier against oxygen and light, which prevents fats from becoming rancid. It also blocks germs, moisture, and odors that may affect the integrity of the product.
Interesting Aluminum Foil Industry Statistics
#1. Over 300 million consumers in the United States say that they have used aluminum foil in the past year. (Statista)
#2. Regular weight aluminum foil is the most popular product used by U.S. consumers. In 2017, over 173 million American consumers used a regular-weight aluminum foil product at least once. (Statista)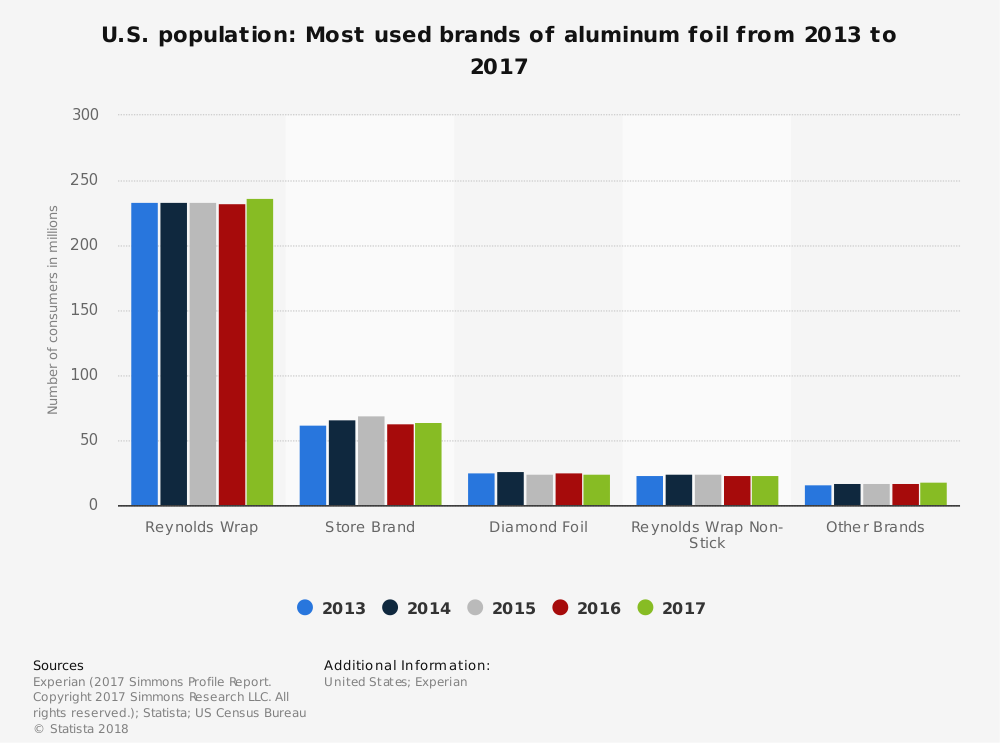 #3. About 44% of the U.S. aluminum industry is dedicated to the production of sheets, plates, and foil. In 2016, over 11.7 billion pounds of aluminum were shipped by the industry, with import figures included. (The Aluminum Association)
#4. Gross shipments of aluminum foil in the United States average more than 60 million pounds per quarter. These figures have been consistent since Q1 2009. (The Aluminum Association)
#5. Deliveries of aluminum foil in 2017 were at 886,300 tons, which was about 12,000 tons higher than the year before. Thinner gauges for household and packaging use increased by 1.8% over the year before. (European Aluminum Foil Association)
#6. The final quarter of 2017 saw aluminum foil deliveries increase to non-European markets by more than 37%. At the same time, domestic deliveries in Europe fell by more than 2%. (European Aluminum Foil Association)
#7. In 2017, demand for thicker gauges of aluminum foil increased by 1%. Deliveries of thinner gauges increase by 2.8%. (European Aluminum Foil Association)
#8. In 2015, the consumer packaging segment of the aluminum foil industry accounted for 72% of the volume-based market share. (Technavio)
#9. By 2020, more than 4 million metric tons of aluminum foil is expected to be used in the Asia-Pacific region. (Technavio)
#10. The volume of Chinese imports of aluminum foil is increases exponentially. In 2014, just under 110,000 short tons of aluminum foil were imported to the United States. In 2016, over 150,000 short tons were imported, an increase of 38.8%. (U.S. Department of Commerce)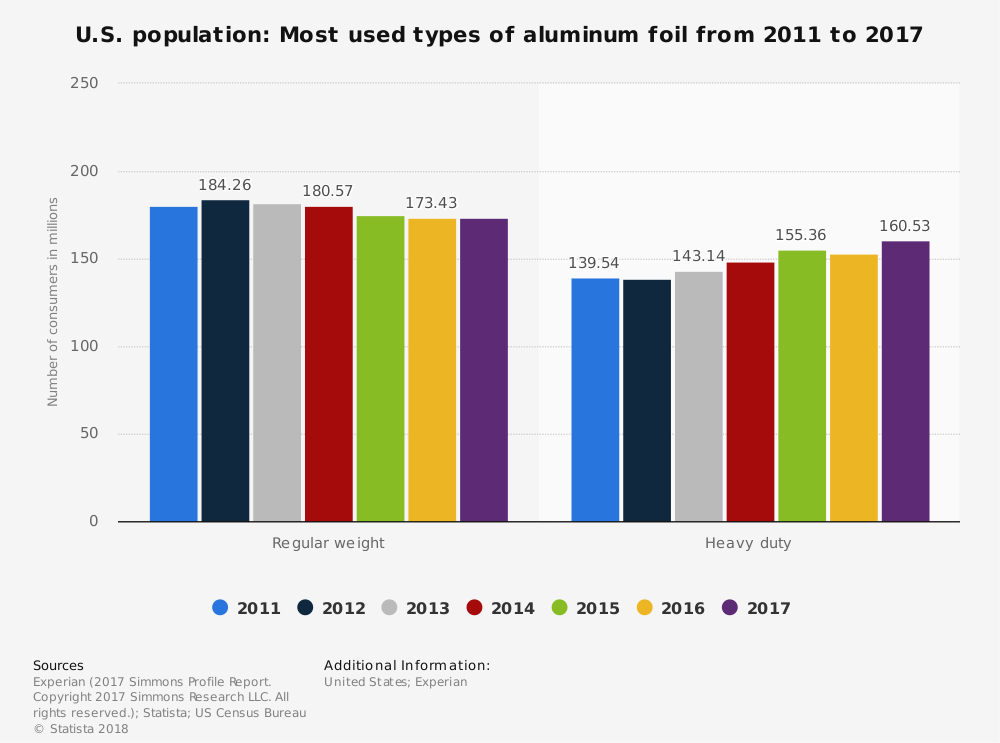 #11. Since 2007, when import volumes were below 40,000 short tons, the import of Chinese aluminum foil to the U.S. has risen by more than 386%. (U.S. Department of Commerce)
#12. More than 70% of the aluminum foil imports ordered by the United States in 2016 originated from China. In 2007, just 22.7% of the industry imports came from China. (U.S. Department of Commerce)
#13. In 2016, 69% of U.S. consumption of aluminum foil products came through producer net shipments. 22% of the consumption came from Chinese imports. (The Aluminum Association)
#14. Production of aluminum foil in Europe increased to 226,900 tons in Q1 2017, which was a 1.5% increase from the year before. (European Aluminum Foil Association)
Aluminum Foil Industry Trends and Analysis
Aluminum foil is a product which almost everyone uses in the world in some way. In the developing world, it may still be used infrequently, though its availability is continuing to increase. In the developed world, almost every household maintains a roll of aluminum foil to use. There are also numerous industrial uses for aluminum foil, making it a very useful and adaptable product.
The aluminum foil industry will continue to see strength in the pharmaceuticals, personal care, and printed segments as well. As a whole, the industry is forecast to rise with a CAGR of 4.8% through the year 2025. The greatest levels of anticipated growth come from the Asia-Pacific region, where the value of the market may top $7.6 billion for the first time.
Much of the growth will be found in the foil that falls in the 0.09- to 0.2-millimeter segment. It already accounts for about 50% of all industry revenues. Even though anything about 0.2mm is classified as aluminum "sheeting" instead of foil, there are foil manufacturers who market products up to 0.4mm as a foil product.
Look for blisters, wraps, rolls, pouches, and food packaging to continue driving the industry forward.