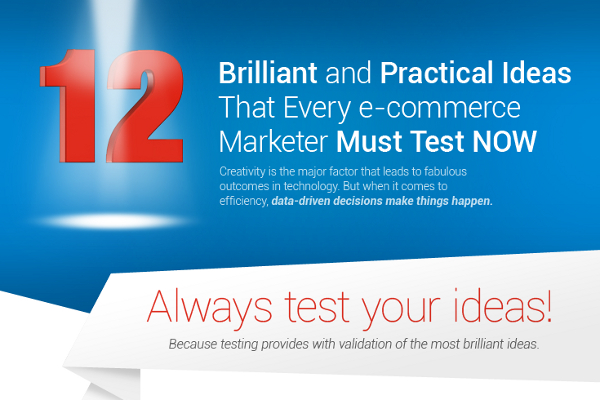 Sure, creative marketing gets people talking—but it's data-based marketing that actually makes stuff happen. That's a lesson taken from the infographic above that a lot of people should follow.
Why? Data driven marketing is ultimately efficient marketing. And, any savvy marketer knows that efficiency is the key to actually conducting a successful marketing plan.
It's also a big reason why testing your e-commerce marketing plans is always a good idea. Just think about it—testing something out ensures that you won't be completely lost when you actually try it.
When you test out a new marketing scheme, you can see if it works. And, if it works, you can implement that scheme into your marketing plan later.
The following is a look back at some marketing ideas you should test before you implement them in your next marketing plan.
1) Call to action buttons.
Download buttons. Order buttons. Even email send buttons. Those colorful graphics, typically placed on the bottom of a web page, help coax people into clicking through. They represent the next step in what a reader should do next.
So, if you want to encourage people to click through, a call to action button is probably one of the best ways to do that.
2) Checkout forms.
If you have an online shop, a well designed checkout form helps buyers fill out their information and confirm their order in no time.
Instant validation, such as implementing green checkboxes when they fill in their info, helps customers know that they've properly finished filling out the form. So, all they have to do is add in their information and, well, complete their order.
Sometimes, customers just want to fill in their info and checkout ASAP. So, it's better to keep it short. Shorter checkout forms are appealing for that reason—they're easy to fill out and they don't make customers divulge any more information than they need to give.
3) Social 'share' buttons.
Three or four small icons are usually attached to most shopping pages or posts—social media icons. And, when you click on these icons, they allow you to share the item or your purchase with others.
Naturally, all e-commerce shops should experiment with social share buttons. Who knows… it could help spread the word about a hot product in your shop.
4) When they arrive and leave, convince them.
Exit offers are a good test subject to gauge how people respond to being offered incentives as they leave. Try seeing how they respond to offers after making a purchase or if they intend to leave the site.
Stock information also works as a marketing tool. Users who visit can see how many of a certain item's left in stock. So, if you have a hot product and just 'only 4 left,' they're going to want to buy ASAP.