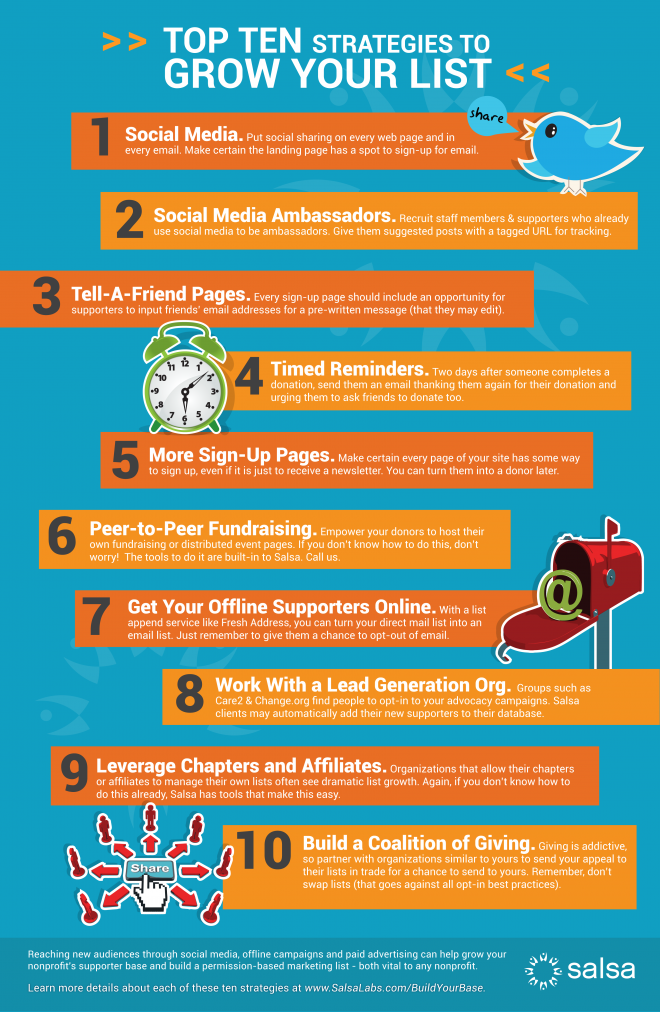 10 Effective Strategies to Grow Your Mailing List
Getting visitors onto your website is just half the battle. The real key to a successful business is getting return visits as often as possible. Email marketing is one of the best strategies that can help you achieve this goal.
To create a sustainable and profitable mailing list, you need to continuously grow your database of prospects and customers. Here are some of the top ways a business can keep a constant supply of fresh contacts that will improve your email marketing results.
1. Quality Content
By creating amazing content for your emails, you will not only keep more people subscribed for longer, but also encourage them to tell their friends and family about it.
2. Social Media
Social sharing is a great way of boosting your subscriber numbers. Add sharing buttons or links on every email and web page, and be sure to include a mailing list signup form on the landing page.
3. Brand Ambassadors
There are many opportunities for recruiting brand ambassadors, from members of staff to avid customers. Having supporters on the various social networks will help increase site visitors and grow your list.
4. Tell a Friend
Make it as easy as possible for subscribers to tell their friends about your list, by allowing them to enter their friends' email and send an editable message.
5. Maximize Sign-Up Pages
Make sure that every single page on your website has a short form to allow visitors to signup.
6. Move Offline Supporters Online
If your business already has a direct mail list, why not utilize your existing contacts by giving them the chance to opt-in to your email list.
7. Leverage Affiliates
Reach more a greater number of users by getting help from affiliates. Either set up your own in-house affiliate program or use a third party provider. By utilizing affiliates you can collect emails from market segments you might never have reached.
8. QR Codes
Include a QR code on all your printed marketing material, which links to a quickly email list signup form.
9. Online Contests
An online contest is a great way of promoting your list. It can be as simple as requiring entrants to enter their email address to enter.
10. Gust Blogging
Writing a guest blog for another site is an effective strategy for getting new visitors. Maximise the opportunity by linking to your mailing list from the author bio section.
Remember the key to a great mailing list is consistency. Make growing your list a part of your regular schedule and you will quickly see all the benefits of a well maintained email marketing list.